The Rock Art of Saudi Arabia by Dr. Majeed Khan

Page 1/7
FROM PREHISTORIC ART TO NOMADIC ART:
THOUGHTS ON THE HISTORY & DEVELOPMENT OF ROCK ART IN SAUDI ARABIA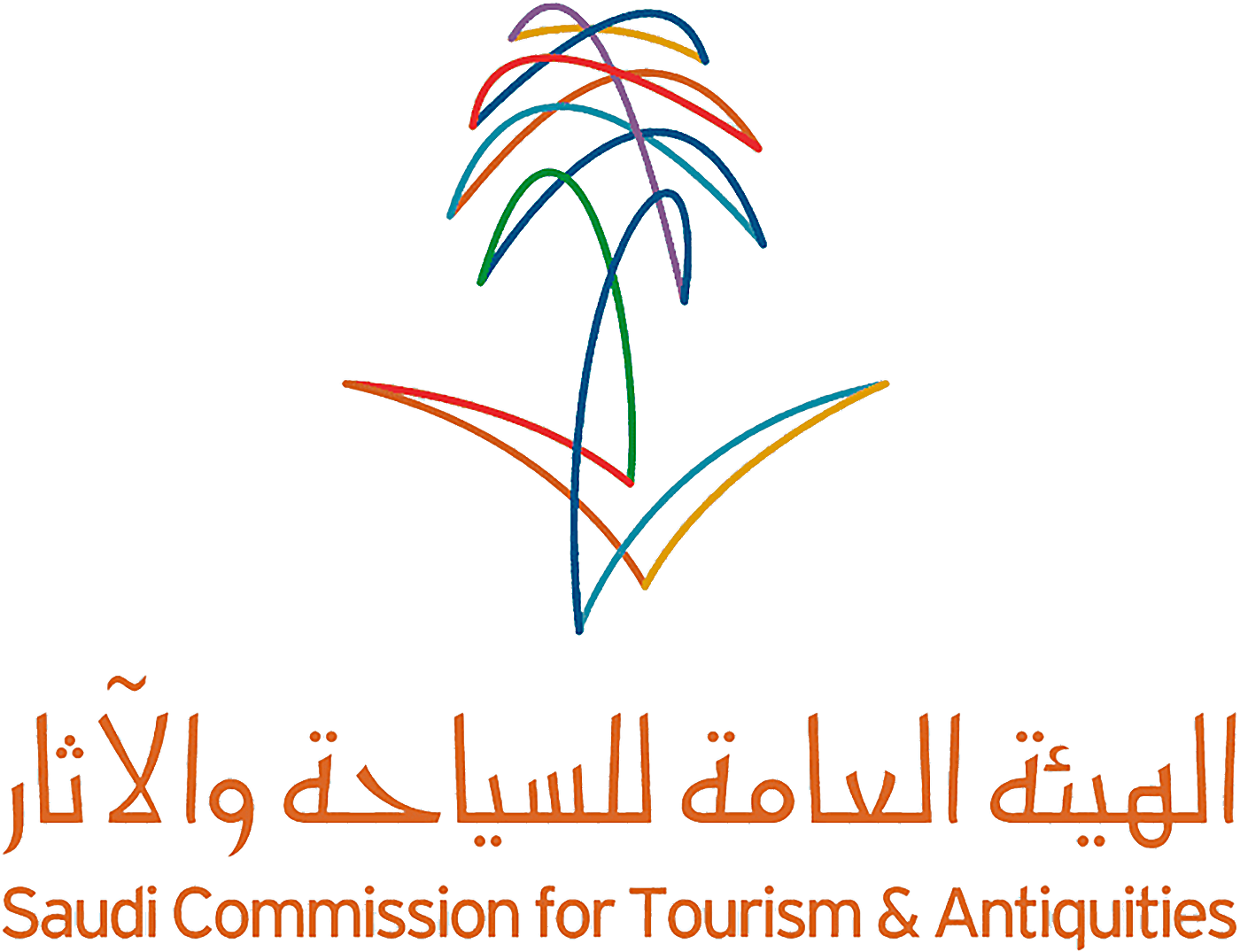 Human presence in the Arabian Peninsula dates back one million years, as evidenced by lithic material discovered at sites like Shuwayhitiyah in northern Saudi Arabia, Dawadmi in the central part of the country, Bir Hima in the south and the Wadi Fatima area in the west. Ten thousand years ago, the inhabitants of the peninsula still subsisted on hunting and gathering, but between 10,000 and 8,000 BP, these activities were supplemented with herding and a form of primitive agriculture in the valleys and flood plains. Five thousand years ago the population was essentially nomadic, although circular stone structures and other archaeological remains seem to indicate that small sedentary communities were beginning to form during this period. These various populations have left behind precious testimonies of their everyday life in the form of petroglyphs and paintings depicting hunting and fighting scenes, as well as social and religious activities.
The cultural origins of the Arab nomads, or Bedouins, are rooted in prehistory, in particular the tribal system that has perpetuated powerful social and cultural traditions since Antiquity.
Certain Arab dances today still have elements in common with millennia-old tribal art. A large carved panel found at Jubbah (left) seems to depict masked men and women dancing. These could also be mythological figures with a human body and a kind of equine head. Interestingly, modern-day Arab men still practise a traditional group dance called the ardha that has points of resemblance to rock art representations in Jubbah, Milihiya, Janin and Tabuk in northern Saudi Arabia. As far as can be deduced from the ancient images, the way the dancers are grouped, the positions of their legs, arms and hands (each dancer holds the hand of another) and their symmetrical movements correspond to the way the ardha tribal dance is performed today.
It is tempting to see in the modern Bedouins' devotion to tribal links and the cultural and social values of their respective tribes - like the dances - the survival of cultural traditions that have been handed down since prehistoric times.
In nearly all the compositions that can be attributed to the Neolithic period, between about 10,000 and 7,500 BP, the human figures are associated with animals, especially cattle and dogs. Presumably these animals had been domesticated and were part of the everyday life and the social and cultural activities of the early tribes.
Rock art depicted social and religious events; men and women [below left] dancing in a group. Are they masked humans or mythological beings with a human body and an animal head? Mythological beings were also represented as 'storm gods'.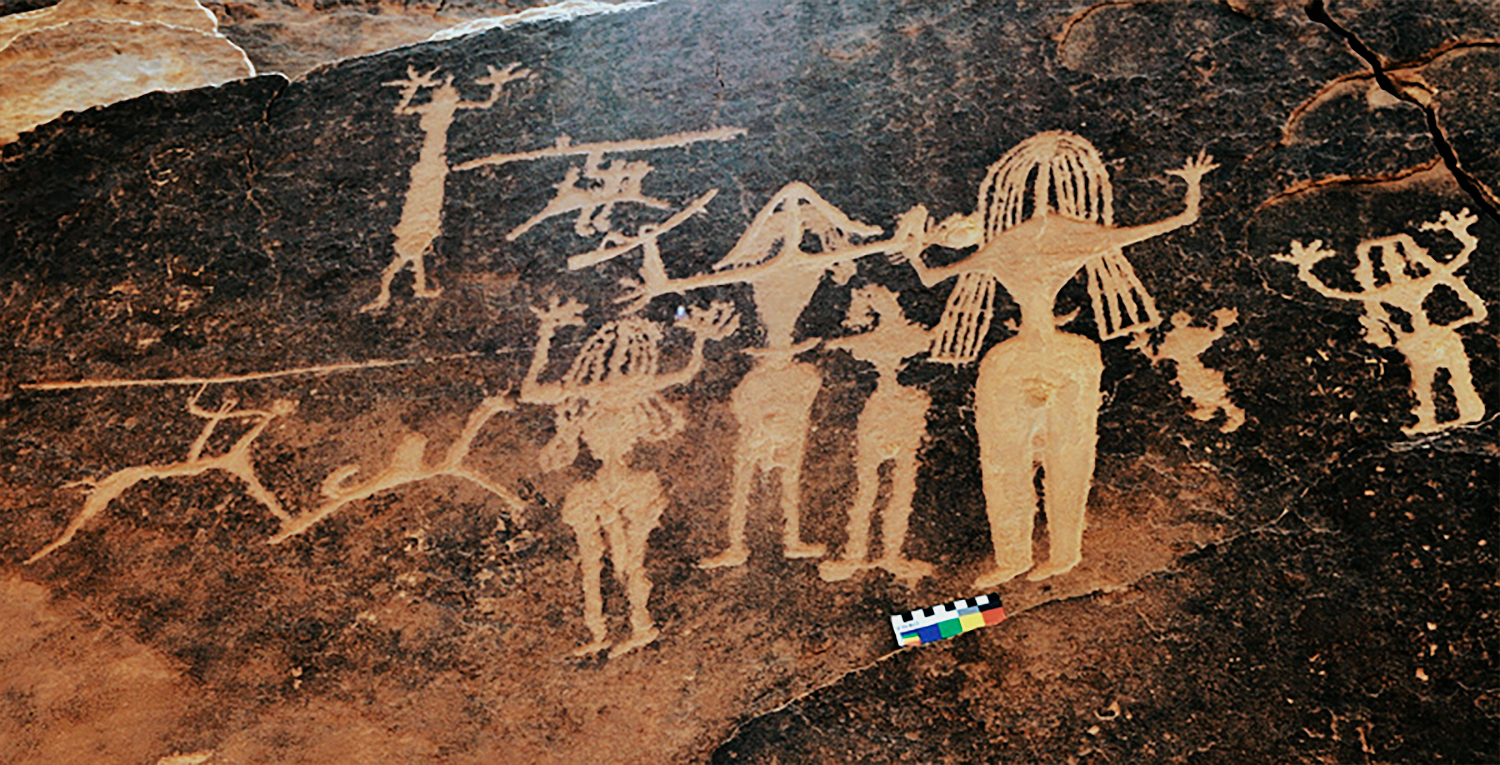 A number of similar depictions of goddesses have been found in the Najran area, with wide hips, hands half raised, palms open and fingers extended (left). Hunting scenes are symbolic and the animals in them are never depicted wounded or pierced with arrows. Are they illustrations of magical practices, specific events or rites performed to ensure a bountiful hunt? All of these assumptions could simply be hypotheses bolstered by our modern point of view.

→

Continued on page 3

→ Middle East Rock Art Archive
→ Bradshaw Foundation Homepage