BRADSHAW FOUNDATION INTRODUCTION

Page 1/11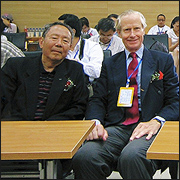 This is an account written and translated by the eminent prehistorian Professor Chen Zhao Fu, Chairman of the Rock Art Research Association of China (RARAC) at the Central Institute for Nationalities in Beijing, presented here as part of the
Bradshaw Foundation China Rock Art Archive
.
Following the footsteps of the famous Chinese geographer Li Daoyuan, author of the scholarly tome 'Shui Jing Zhu' written over 1,500 years ago, Professor Chen Zhao Fu rediscovers the rock art sites of China; 'In Search of a Vanishing Civilization' is a short account of his monumental quest, traveling over 20,000 kilometers and through 10 provinces, to bring the prehistoric rock art of China to the attention of the world.
| | |
| --- | --- |
| | ROCK ART AND THE BEGINNING OF WRITING IN CHINA |
Rock art painted or incised by early human of the Paleolithic Period is the earliest record of mankind's daily life.
Rock art was first discovered in northern Europe in the 17th century, and then so many have been found since not only elsewhere in Europe but also in Asia, Africa, America and Australia. It seems that early man throughout the world used rock surfaces as his first "canvas". Apart from in a handful of ancient civilizations, written history goes back only a few centuries, but tens of thousands of years earlier than the first written word, these images afford us to glimpse into our ancestors' past. UNESCO suggested in 1981 that a world catalogue of rock art be compiled, but in international studies of the subject, China is still a blank in 1984.
| | |
| --- | --- |
| | DISCOVERY |
In point of fact, rock art has been known in China at least as early as the fifth century, when it was mentioned by the geographer Li Daoyuan, mentioned it.
Li Daoyuan's book named "Shui Jing Zhu". It is a geographical book about rivers, written over 1,500 years ago, recorded many rock art sites. Really, China is the earliest country that had discovered rock art in the world; and Li Daoyuan is the earliest writer who recorded the rock art in his book.
Having traveled many places all his life, Li Daoyuan's records derived mostly from personal knowledge with his own eyes. In the year of 494, he went with the King to Inner Mongolia and many other places, his book has over twenty points of recorded rock art sites, including the regions cover half of the area of China.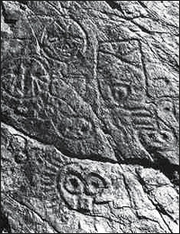 The book describes the techniques of the rock art as painting and engraving, and the subject matters are all embracing, reflecting the matters of major importance in human life, such as wild animals, domestic animals, masks, symbols, footprints and especially various animal hoof prints were recorded in a large number. Of course, these rock art works were not made in the same times, they are from several ages, reflecting the features of societies before the fifth century, and also these works surely were made before 1,500 years ago.
Concerning the description of rock art in the book, Li Daoyuan offered valuable contribution; we can find a good deal of information from his book. They're also some records confirmed by recent investigations.
There is a story, in 1975; an archaeologist working in Inner Mongolia became extremely interested in an account of the book. It said that there were painted cliffs in Yinshan Mountains included many horse-like figures. The archaeologist decided to investigate and in following year the rock art was discovered in Langshan district, western Yinshan Mountains. Since then, great efforts have been made and more than thousands engravings have been discovered. They have been named the "Yinshan Rock Art".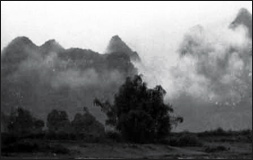 In this cases, it was an ancient book that led to the discovery. In fact, rock art sites are often mentioned in ancient Chinese texts. For example, a book of Ming dynasty (1368--1644) mentioned Mount Huashan rock paintings in Guangxi , saying that they can be seen at certain times but disappear at other times-- as if some celestial beings lived on the cliffs. The pointing of fingers at these paintings was not allowed, according to the book, and those who neglected this warning became very ill. For generations this story had been related, becoming more and more tinted with legendary color.
Many rock art recorded in classical literatures have not been discovered. The famous book "Shui Jing Zhu" recorded that at Mount Yellow Cow on the bank of Changjiang (Yangtze) river in Hubei province, there figures representing a herdsman leading a cow; but nobody can see them now. Most probably they vanished long ago.
On the other hand, many rock art exist which are not recorded in any ancient literature. For instance, in Cangyuan county of Yunnan province, a popular legend says that there are many figures on the cliffs that appear from time to time and have been regarded as magic figures. By following this legend, the archaeologists finally discovered the Cangyuan rock paintings.
Modern investigations began with Prof. Huang Zhongqin's description of those at Hua'an in Fujian province in 1915, and with the Swede F. Bergman's survey of Kuluke Mountain in Xinjian (Chinese Turkstan) in the late twenties. But it was only in the fifties that discoveries began to be made in large numbers, starting with area around Zuojiang River Valley in Guangxi; then at Cangyuan in Yunnan in the sixties and in the Inner Mongolian Yinshan Mountains in the seventies. Besides these remarkable finds, rock art was known to exist in at least 100 counties Spread over 18 provinces and regions.
My investigations took me 20,000 kilometers through 10 provinces. The rigorous of the journey -- the rock art sites are mostly in rugged country inaccessible to cars -- were amply rewarded when a clamber up a cliff or a trudge through shoals and rapids brought me face to face with scenes of hunting, flock-tending, sacrificial rites, dances and battles as our progenitors practiced them in the remotest antiquity, as if the curtain of time had been swept from before my eyes.
Like us on Facebook & Follow us on Twitter to receive news & updates
:
→
The China Rock Art Archive
→
Bradshaw Foundation