From Steep Hillsides: Ancient Rock Carvings from Dazu, China
New Exhibition - Exclusive to Wales
Exclusive to the National Museum Cardiff in Wales
→
National Museum Cardiff - Press Release
Rock-cut cave temples were first developed in ancient India at sites such as Ajanta, as a means of spreading Buddhist ideas. The tradition migrated to China hand in hand with Buddhism itself, making its way along the Silk Route via Afghanistan and the deserts of central Asia into the Yellow River valley in northern China. During the Northern Wei dynasty (386-534) and the prosperous Sui (581-618) and Tang dynasties (618-907), it flourished most notably at sites like Dunhuang, Yungang and Longmen. The rock carvings at Dazu World Heritage Site near Chongqing in south-west China were first created in the seventh century and developed over a wide area and with great energy mainly from the late ninth to the mid thirteenth centuries. They represent the last great expression of this monumental art form.
| | |
| --- | --- |
| | Buddhist Rock Carvings Gallery |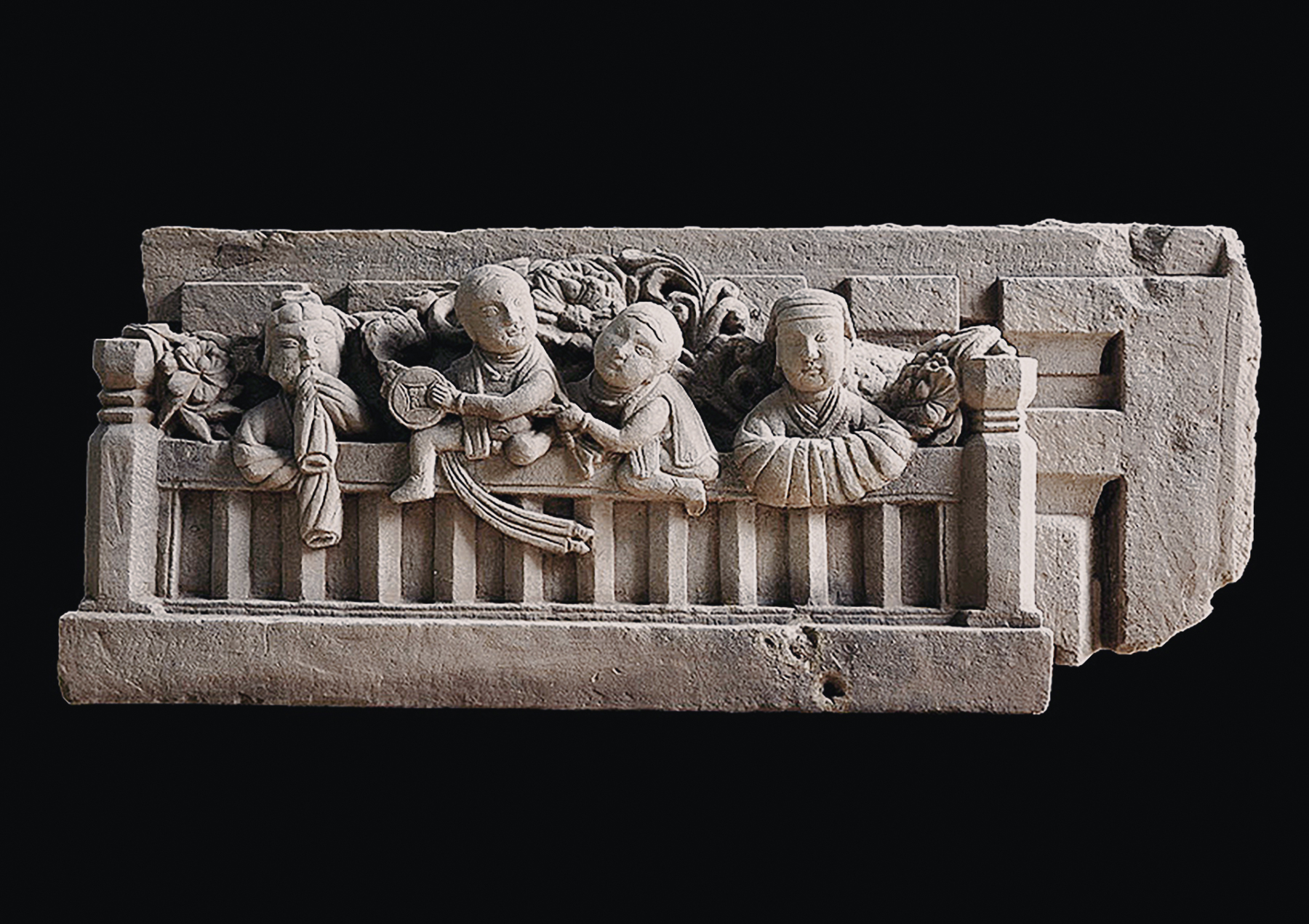 A family group

A family group
Excavated from a tomb at Moerpo, Dazu • Song dynasty (AD 960-1279)
Carved sandstone

| | | | | |
| --- | --- | --- | --- | --- |
| | | | | |
| Sakyamuni Buddha | | Head of Sakyamuni Buddha | | Followers of Liu Benzun |
| | | | | |
Sakyamuni Buddha
Xiaofowan, Baodingshan, Dazu • Southern Song dynasty, AD 1174-1252 • Carved and painted sandstone • The Xiaofowan ('Small Buddha Bend') is an inner enclave of the Baodingshan site reserved for those initiated into Zhao Zhifeng's Esoteric Buddhist sect

Head of Sakyamuni Buddha
Duobao ('Many Treasures') Pagoda, Beishan, Dazu • Southern Song dynasty (AD 1127-1279), probably AD 1131-1162 • Carved, painted and gilded sandstone

Followers of Liu Benzun
Xiaofowan, Baodingshan, Dazu • Southern Song dynasty, AD 1174-1252
Carved and painted sandstone

| | | | | |
| --- | --- | --- | --- | --- |
| | | | | |
| Head of a bodhisattva | | Head of Vairocana Buddha | | A meditating monk, perhaps Zhao Zhifeng |
| | | | | |
Head of a bodhisattva
Shengshou Temple, Baodingshan, Dazu • Southern Song dynasty, AD 1174-1252 • Carved sandstone • The Shengshousi ('Temple of Holiness and Longevity') was built by Zhao Zhifeng as a centre for advanced Buddhist instruction

Head of Vairocana Buddha
Bilu Daochang ('Sacred Ground of Vairocana') grotto, Baodingshan, Dazu
Southern Song dynasty, AD 1174-1252

A meditating monk, perhaps Zhao Zhifeng
From the relief 'Parents bestowing kindness on their children', Baodingshan, Dazu • Southern Song dynasty, AD 1174-1252 • Carved and painted sandstone
Comprising more than fifty thousand statues hewn from sandstone outcrops at seventy-five different sites, the Dazu carvings constitute a high point in the history of cave temple art in China. They build on the early cave temple tradition but develop it in new directions, integrating the ideologies of Buddhism, Daoism and Confucianism to produce sculpted devotional complexes which are uniquely and wholly Chinese in character. Dazu stands apart from other cave temple sites both artistically and in terms of subject matter, much of which is secular in nature. At Baodingshan in particular, there are many charming - as well as sobering - representations of Chinese family and daily life.
The earliest cave temple site in Dazu is Beishan, initiated in 892 by the military commander Wei Junjing and expanded along the rock face for five hundred metres until 1162. In 892 Dazu had been made the administrative seat for a large region in modern central Sichuan and Wei Junjing had been put in charge as Commanding General. The new class of military-civilian administrators was strongly supported by the landowners, and together they became generous and powerful patrons of the religious art that flourished in the Dazu area well into the Song dynasty (960-1279).
Of all the rock-carved sites in Dazu County, the most extensive and impressive is Baodingshan ('Summit of Treasures'). Executed between 1174 and 1252 under the direction of a local monk called Zhao Zhifeng (born 1159), Baodingshan is the only site in China that embodies the development of Buddhist teaching during the Song dynasty. Here, Zhao Zhifeng planned a place of instruction and ritual practice for the various schools of Buddhism active in Sichuan at the time, including the Pure Land, Huayan and Chan traditions.
Particular prominence was given to an indigenous tradition of Esoteric Buddhism based on the teachings of the Tang-dynasty Buddhist layman Liu Benzun (855-907). Liu had led a Buddhist movement that emphasised a harshly austere lifestyle, incantations and miracles, secretive rituals, and humanitarian deeds of the sort richly illustrated in the Baodingshan carvings. At a time of crisis and turmoil for the Tang dynasty, Liuís teachings had been very popular among the lower classes and to some extent the elite of Sichuan, and it may be that Baodingshan was an attempt by Zhao, who considered himself to be Liuís spiritual heir, to bring them to wider attention.
Baodingshan is a sequence of thirty-one monumental tableaux carved around a horse-shoe shaped gully. Zhao and his followers gave the site a uniquely coherent character by using a thread of Buddhist doctrine to connect the whole, a fact underlined by the presence throughout of lengthy inscriptions quoting Buddhist scriptures. Religious tenets were also illustrated by references to contemporary popular and elite culture, no doubt reflecting a dependence on patronage from prominent secular figures. Included are representations of Confucian and Daoist beliefs widely held by the ordinary population, such as the important Confucian value of respect between parents and children.
The result is a real treasure house of Chinese art history, an important synthesis of the ideas of Buddhism, Daoism and Confucianism as well as a fascinating insight into Chinese popular culture. The sequence of carved reliefs is not only impressive in its scale but also extremely rich in content and highly innovative in style. Breaking from the tradition of static, repetitive groupings of three, five or even nine figures that are found in earlier Buddhist cave complexes such as Longmen, they incorporate densely populated scenes that balance sacred subject matter with depictions of everyday life. This unique insight into Song-dynasty society is one of the siteís most distinctive characteristics.
The
exhibition at the National Museum in Cardiff
is a unique opportunity to see a body of art that has never been shown outside China before. Embracing full-scale Buddhas and exquisitely carved Bodhisattvas, monks and lay figures, Daoist deities and vignettes of ordinary life, the selection of nearly fifty rock carvings provides a magnificent introduction to the riches of Dazu World Heritage Site. The original sculptures are complemented by a number of accurate replicas of some of the most important carvings still in situ as well as dramatic large-scale images that bring to life the experience of visiting these spectacular places.
Like us on Facebook & Follow us on Twitter to receive news & updates
:
→
The China Rock Art Archive
→
Bradshaw Foundation