INORA
INORA - International Newsletter On Rock Art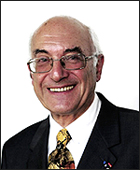 Dr Jean Clottes
I am pleased to announce that INORA, under the auspices of Comite International d'Art Rupestre (CAR - ICOMOS), Union Internationale des Sciences Prehistoriques - Protohistoriques (UISPP) and Association pour le Rayonnement de l'Art Parietal Europeen (ARAPE) is now available online.
The English version is to be hosted on the Bradshaw Foundation website and the French version on the French Ministry of Culture Centre National de Préhistoire website. INORA will continue to be printed in its bilingual version and will be available by subscription (see below) at the current prices. An archive section containing past copies of INORA will be created and made available in the future.
Dr Jean Clottes
INORA Editor
| | |
| --- | --- |
| | Online Download |
INORA - The International Newsletter On Rock Art is available for immediate download in PDF format from the
Bradshaw Foundation iShop
| | |
| --- | --- |
| | Subscriptions |
With 3 publications per year, in French and English, INORA presents an international forum on ancient rock art and associated areas of archaeology, paleaontology and anthropology.
Edited by
Dr Jean Clottes
, Former Director of the Chauvet Research Team, funded (or subsidized, or sponsored) by the Ministère de la Culture and the Département de l'Ariège, the newsletter presents the latest discoveries of rock art from around the world. It provides a platform for discussion and debate of current theories and controversies. It examines past, present and future documentation and dating techniques, and their interpretation. It provides online database sources for related literature. The bound copy contains photography, illustrations and bibliographies.
Annual Subscriptions:
Bank Details
:
Account holder: ARAPE
Bank account: Caisse d'Epargne (CE) de Midi-Pyrénées
Address: 1ter, Bd Alsace Lorraine 09000 FOIX (France)
Account number: 08102295317
IBAN: FR76 1313 5000 8008 1022 9531 780
SWIFT/BIC: CEPAFRPP313.
France - Euros 20, cheque payable to INORA-ARAPE
,
Sent to INORA-ARAPE, 11 rue de Fourcat 09000 FOIX, France.
Europe - Euros 20, postal order or bank transfer to INORA-ARAPE
,
USA - $25, payable to ARARA
,
Sent to Donna Gillette, ARARA, 1147 Vaquero Way, Nipomo CA 93444, USA.
email :
wlmailhtml:rockart@ix.netcom.com
For all other countries:
Send a money postal order for 20 Euros
If your bank has a branch in france, send a 20 Euros cheque payable to ARAPE
If your bank has not got a branch in France, send a cheque for:-
24.50 Euros or US$30 for 1 year, or
42.50 Euros or US$50 for 2 years.
| | |
| --- | --- |
| | Contact |
International Newsletter On Rock Art
11, rue du Fourcat, 09000 FOIX (France)
France : Tél. 05 61 65 01 82
Etranger : Tél. + 33 5 61 65 01 82
Editor Dr Jean Clottes
email :
j.clottes@wanadoo.fr