OUT OF EDEN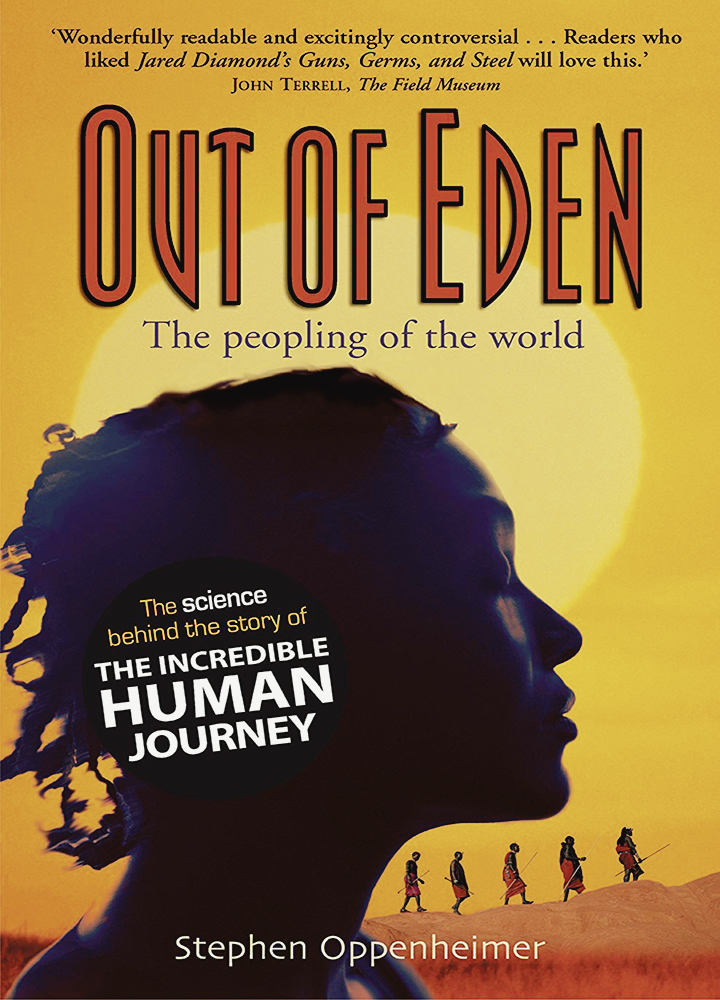 OUT OF EDEN
In 1988 Newsweek broke the news that everyone alive on the planet today carries DNA that can be traced back to a single woman living in Africa over 150,000 years ago. Modern humans are truly 'out of Africa'. But how, when and why we left our motherland was open to question and until very recently most experts believed that many waves of ex-African migration had resulted in a gradual populating of the world.
With a systhesis of new genetic, archaeological and climatic evidence, Stephen Oppenheimer challenges the orthodoxy by arguing that all modern non-Africans can be shown to have sprung from a single exodus. One migrant group of no more than a few hundred souls was forced out of its homeland by increasing salinity in the Red Sea, some 85,000 years ago, and all non-Africans today can trace their mitochondrial DNA to one woman from this group - the Out-of-Africa Eve.
Paperback 440 pages (July 2004)
Publisher: Constable and Robinson
ISBN: 1841198943
'A wonderful, very readable book, written by an expert: Stephen Oppenheimer explains how our genes hold clues to the origin of our species, and tell the story of how our ancestors colonised the world.'
Dr Alice Roberts, University of Bristol, Author of
"The Incredible Human Journey"
.
| | |
| --- | --- |
| | THE ORIGINS OF THE BRITISH - A GENETIC DETECTIVE STORY |
THE ORIGINS OF THE BRITISH
As a child, I sometimes wondered why people told jokes about Englishmen, Irishmen, Welshmen and Scotsmen. Why should our origins and differences matter? Part of growing up was realizing that they do matter and trying to understand why. This book challenges some of our longest held assumptions about the differences between Anglo-Saxons and Celts – perceived differences that have informed our collective sense of identity. Orthodox history has long taught that the Romans found a uniformly Celtic population throughout the British Isles, but that the peoples of the English heartland fell victim to genocide by the Anglo-Saxon hordes during the fifth and sixth centuries.
Paperback 400 pages
Publisher: Robinson Publishing; New Ed edition (12 April 2007)
ISBN-10: 1845294823
ISBN-13: 978-1845294823
| | |
| --- | --- |
| | EDEN IN THE EAST |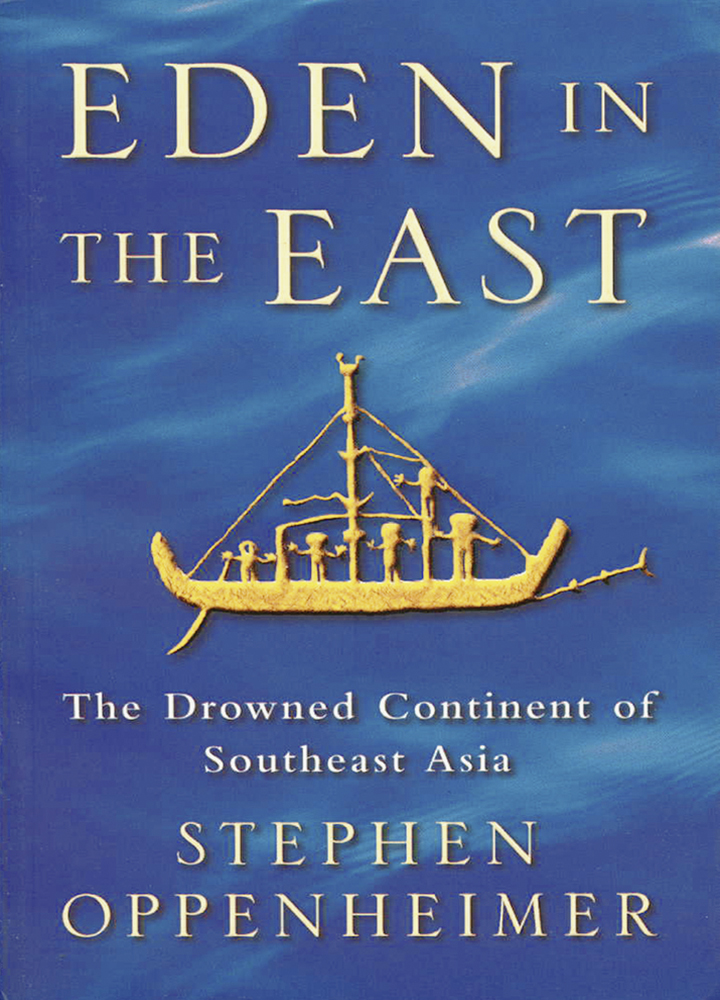 EDEN IN THE EAST
The Drowned Continent of Southeast Asia
The biblical flood really did occur - at the end of the last Ice Age. The Flood drowned for ever the huge continetal shelf of Southeast Asia, and caused a population dispersal which fertilized the Neolithic cultures of China, India, Mesopotamia, Egypt and the eastern Mediterranean, thus creating the first civilizations. The Polynesians did not come from China but from the islands of Southeast Asia. The domestication of rice was not in China but in the Malay Peninsula, 9,000 years ago. In this ground breaking new book Stephen Oppenheimer reveals how evidence from oceanography, archaeology, linguistics, genetics and folklore overwhelmingly suggests that the lost 'Eden' - the cradle of civilization - was not in the Middle East, as is usually supposed, but in the drowned continent of Southeast Asia.
Publisher: Phoenix (Orion) - ISBN: 0753806797
| | |
| --- | --- |
| | THE REAL EVE / OUT OF AFRICA'S EDEN |
THE REAL EVE
The Real Eve - Modern Man's Journey Out of Africa
Paperback 464 pages; Dimensions (in inches): 1.17 x 7.78 x 5.04) Publisher: Carroll & Graf; (September 9, 2004) ISBN: 0786713348
Out of Africa's Eden - The Peopling of the World
Publisher: Jonathan Ball Publishers ISBN: 1868421732
About 80 millennia ago, out of one major exodus by migratory human ancestors from Africafrom Eritrea to Yemen (then to India and Australia, and eventually to Europe)was the entire non-African world in all its racial and cultural diversity ultimately peopled; and to one prehistoric woman in Africa 150,000 years ago, all the peoples of the world can trace their genetic origin.
OUT OF AFRICA'S EDEN
So argues Stephen Oppenheimer in a groundbreaking volume that has stirred heated controversy among authorities in geology, linguistics, archaeology, and anthropology. Thoroughly researched and meticulously reasoned, with dramatic evidence garnered from recent advances in the field of genetics through DNA analysis, The Real Eve traces the evolution of modern humankind out of a common African ancestry for again and again, Oppenheimer's extensive genealogical research, based on our gender-specific so-called Adam and Eve genes, has led him straight back to Africa. His conclusions have placed him in direct opposition to multiregionalists, who maintain that archaic human populations evolved locally, and have unsettled many long-established anthropological assumptions and cultural prejudices to provide a fresh perspective on the nature of the human destiny that all of us on planet Earth share. Color photographs are featured in this fascinating story of our human beginnings.
| | |
| --- | --- |
| | THE REAL EVE (DVD) |
THE REAL EVE (DVD)
5 Billion People... from One Woman
Who was "the real Eve"? What did she really look like, where did she live, how did the human race truly come to be? Travel back in time as Danny Glover narrates this fascinating look into the past to fined the very beginnings of the human race. Through exclusive access to the very latest DNA reconstructions and cutting edge technology, scientists can now for the first time conclusively answer the where, when and how's of this mysterious woman-mother to us all.
DVD Release Date: August 20, 2002
Run Time: 103 minutes
Language: English
RELATED LINKS
Journey of Mankind
Interactive Genetic Map
Professor Stephen Oppenheimer
iLecture Documentary Film
Recommended Reading
The Origins of the British
The Incredible Human Journey
Like us on Facebook & Follow us on Twitter to receive news & updates
: