THE AREA AROUND STONEHENGE

Page 4/4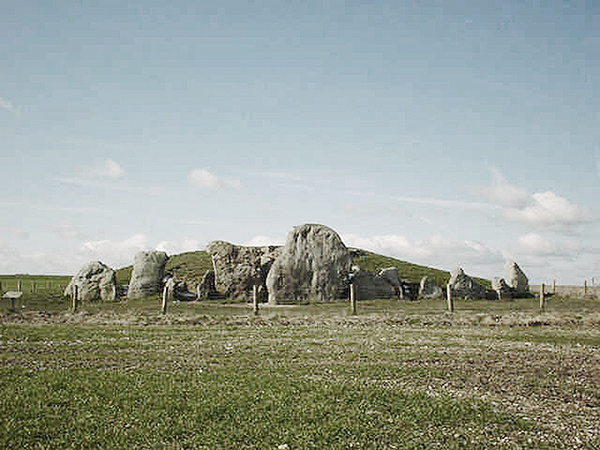 That Stonehenge was of significance is obvious from its splendour and the sheer amount of time dedicated to its evolving construction, but what emphasises this is the fact that the area chosen to place it in is steeped in prehistoric importance. The barrows around Stonehenge are not rare for their individual structure or contents, but they certainly are for their unique grouped and dense distribution. Numbering some 460, there are 6 types - bell, bowl, disc, long, pond and saucer.
Constructed in 3600 BC,
West kennet long barrow
- the largest chambered tomb in England - represented a prelude to Stonehenge. The 45 burials, carried out over 25 generations, were of powerful individuals, as demonstrated by the accompanying gold breast plates, bronze daggers and quantities of rare mace.
A few miles further on lies Avebury, built between 2500 and 2200 BC, shortly after the stones began arriving at Stonehenge. It is the largest stone circle in Europe, containing 100 stones encircled by a 20 foot high ring mound. Nearly 30 acres in size, the equivalent of 15 football pitches, it has 4 cause-wayed entrances, leading in to 2 inner stone circles. These sarsen stones, quarried from the Marlborough Downs, are gigantic although not not as elegantly dressed as those of the neighbouring monument.
AVEBURY SARSEN STONES
click photo for enlargement
AVEBURY CONTAINS 100 STONES
click photo for enlargement
AVEBURY SARSEN STONES
click photo for enlargement
Shortly before the construction of Avebury, what is now known as the Durrington Walls was built - a massive circular earthwork, or henge, 300 yards in diameter. It would have contained 2 circular buildings, roofed and thatched, used for ceremonial and trading purposes.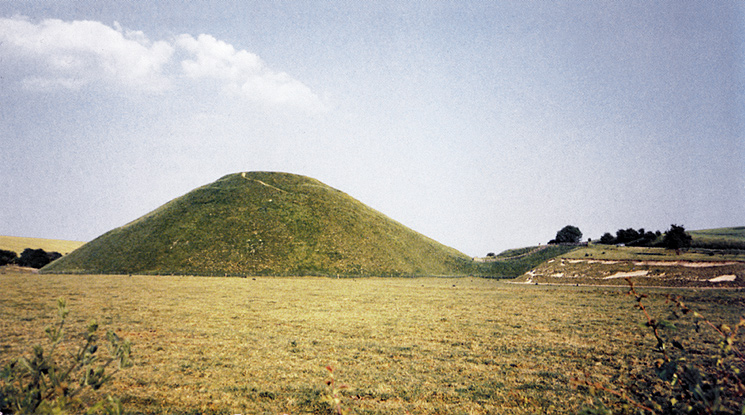 Directly south of Avebury sits the vast and silent Silbury Hill. It is the largest man-made mound in Europe, 130 feet high, 500 feet in diameter, and occupying an area of 5 acres. Built around 2660 BC, it was carefully engineered in a series of stepped horizontal layers created by concentric rings of chalk blocks. Containing no burial or shrine, the hill's purpose is still a mystery, but it is a striking indication of the labour resources available in early southern Britain.
Woodhenge, lying just over a mile north-east of Stonehenge, was another Neolithic monument, originally made up of a series of concentric circles of wooden poles within a circular bank and ditch. It would have been of a similar size to Stonehenge, originally consisting of 6 rings of wooden posts radiating out from a central point. It is tempting to assign this as the precursor to the neighbouring megalithic monument, but dating the structure tells us it was being made as the sarsen lintelled circle was being added to Stonehenge.
| | |
| --- | --- |
| | STONEHENGE CONCLUSION |
We must not underestimate the capabilities of ancient man - Stonehenge is proof that the Neolithic population was capable of observing the rising and setting of the sun and moon extremely accurately, and interpreting the results in order to predict both the seasons as well as the terrifying disappearance of the sun or moon during an eclipse. But Stonehenge should really be seen as the jewel in the crown.
The sheer scale of activity within this region of England during the Neolithic period is staggering - a scale of activity that can be compared with that of a modern Olympic village. The numerous and varied structures were being created and used concurrently, over hundreds of years, and many generations, for ceremonies, burials, trade and astrological predictions. It was a region of the utmost importance.
As to Stonehenge itself, in effect, it spanned two eras - Britain was nearing the end of the Stone Age and the start of the Bronze Age, and as such the monument represented a social revolution. This prehistoric renaissance in Europe saw tools of wood, bone and stone being replaced by metal. It saw society changing from the communal to the powerful individual. Stonehenge was the product of a chance succession of distinct cultures, each lending to it their own particular values. Perhaps it was this unique cocktail of influences which produced a megalithic monument that was to prove to be utterly unique.
JEWEL IN THE CROWN
click photo for enlargement
NEOLITHIC PERIOD
click photo for enlargement
STONEHENGE MONUMENT
click photo for enlargement
Like us on Facebook & Follow us on Twitter to receive news & updates
:
→
Bradshaw Foundation