APPENDIX 2 - TWYFELFONTEIN SITE REPORT BY SVEN OUZMAN

9/18
| | | |
| --- | --- | --- |
| | | Site 9 – Twyfelfontein Main Site Complex |
Die südliche Wohnfläche
Site D on Scherz's Map (D in
Figure 14
)
S 20° 35' 50'' / E 14° 22' 31"
Site Description
There is another, smaller flat living area immediately south of Site 8, separated from it by the Archway rock shelter and a small dry river gorge. Though less expansive, this area is a very localised landscape with many rock blocks, passage-like spaces and an amazing echo. On the western edge, this area is defined by the most huge upstanding rock blocks at Twyfelfontein (The Riesenblock -
Figure 84
).
Associated Archaeology
The Affenblock site, which has several rock paintings rock, was excavated by Dr. Eric Wendt, who found sparse cultural remains to a depth of about 300mm. There are stone tools and ostrich eggshell fragments visible in most places as well as stone alignments that may represent Khoekhoen hut circles.
Description of Die südliche Wohnfläche's rock art
This area has several Bushman rock paintings, over 250 Bushman rock engravings and perhaps 40 Khoekhoen rock engravings. There are numerous findspots, eight of which are mentioned here.
Upslope giraffe site: High up on the western slope of the valley side is an upright sandstone slab on which there is a very clear giraffe pecked in deep outline and partial infill. Two other partial pecked-infill giraffe are placed to the right of this giraffe as well as a fourth, smaller animal. The visible giraffe may have been re-pecked.
Affenblock: In the centre of the living area is a small rock shelter with an ocular passageway connecting the two lobes of the larger site's living area. In this rock shelter there is an isolated 400mm human figure in a standing/walking posture painted in red and, on the north side of the same rock, a grouping of at least six human figures, also in red. 2m opposite the isolated Bushman rock painting on a vertical shelter wall (Site 4.14) is a collection of engraved imagery comprising fine pecked-infill broad-horned antelope, 11 ostrich, a feline spoor with claws extended, a human figure, giraffe and 22 cupules arranged in two parallel rows. These cupules are between 26mm – 35mm in diameter and between 3.5mm – 8mm deep.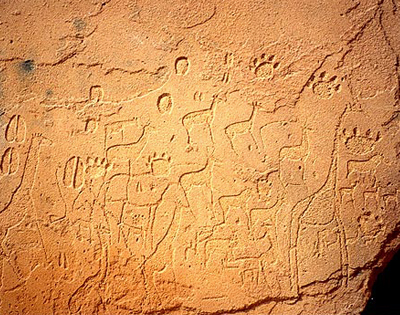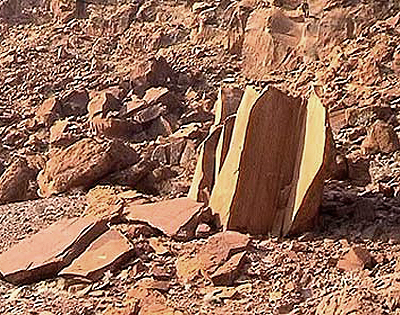 East and north of the Affenblock: All around the Affenblock, especially to the east, are many engravings that are dominated by ostrich, at least 3 of which have feet shown in a twisted perspective as though they were spoor. There is a lot of spoor imagery; especially antelope and giraffe. Most of the engravings have been depicted in fine pecked-infill, sometimes with a deeper outline. Giraffe also is featured prominently, with a particularly good example being found on the back, eastern side of the large rock block. On top of this rock block there are also giraffe engravings, spoor and zebra.
To the west of the Affenblock on a 65° sloping sandstone block are some very good giraffe engravings; one of which as a triple wavy line associated with its head (
Figure 85
). To the left is a very fine engraved and abraded and polished giraffe spoor 115mm x 70mm. More spoor, equids, antelope, and wavy lines fill up this rock slab. Closer to the overhang are some zebras in pecked-infill with clear mane hairs.
South of (behind) the Affenblock: Beyond the small ocular passageway in the painted rock shelter the imagery is dominated by spoor. Behind the shelter there is a series of over a dozen antelope spoor very careful engraved in fine pecked-infill, about 1.6m – 2m above the present surface level. There are three antelope, 1 human and 1 equid spoor here. Turning to the west and south, high up on the back (eastern) side of one of the huge Riesenblock upstanding slabs at least 3m off the present surface level there 7 pecked-infill human footprints with 5 toes each. These footprint engravings are very big – over 400mm. There are also 6 antelope spoor, 2 equid spoor and 3 feline pug marks.
Khoekhoen shelter: North and slightly east of the Affenblock is a high and open rock shelter. Facing this shelter is a sloping slab on which antelope, ostrich, giraffe and rhino have been engraved, somewhat roughly. Within the shelter on a lower frieze there are 4 rough pecked-infill rhino and 2 rough pecked-infill equids. Above this frieze on a more-than-vertical ceiling area is a series of joined rough pecked-outline circles, identical to joined finger-painted such 'honeycomb' motifs found in the Khoekhoen finger-painted tradition elsewhere in southern Africa.
Oryx-spoor panels: Both behind the Affenblock between it and the Riesenblock, as well as on a large 35° sloping slab downslope and to the NW of the Riesenblock, two almost identical motifs are engraved. In each case, in a light pecked-infill there is engraved an oryx with prominent horns. In both instances, the oryx's feet end in twisted perspective spoor, with the downslope oryx having two cupules on either side of each leg. It seems as if the other oryx also has these cupules, perhaps representing hock marks.
Riesenblock: On the western side of the huge upstanding rock blocks (the largest at Twyfelfontein) with passageways known as the 'Riesenblock' there is a large vertical engraved panel in two parts separated by a large, probably collapsed, rock slab. The smaller, left hand side panel is 'protected' by a small engraved panel on the ground on which are engraved in fairly coarse pecked-infill 4 ostrich, one of which has feet that end in twisted perspective spoor, some disembodied pecked-infill animal heads, a circular motif and lines. The left hand panel has engraved on in a very fine pecked-outline, pecked-infill and partial pecked-infill the so-called 'sitting giraffe', a bird-like image and a detailed zebra with mane hairs. There is a 5-toed feline pug mark with extended claws and also an equid spoor. Other, less finely engraved animals on this panel include an ostrich, 3 antelope and a circular outline.
The right hand side panel has many engravings such as the odd rhino-antelope animal in punctate pecked-infill. There is also an elephant in a similar punctate pecked-infill. There is a row of giraffe with deeply engraved pecked-infill crescent bodies. Two lean felines (
Figure 86
), perhaps cheetah or leopard, are engraved in addition to 2 other felines. There is a small pecked-infill rhino with a very long wiggly horn. There is also oryx, a second row of giraffe and lots of spoor – dominated by a large punctate-infill giraffe spoor as well as equid, feline and antelope. Two oryx have twisted perspective spoor-feet.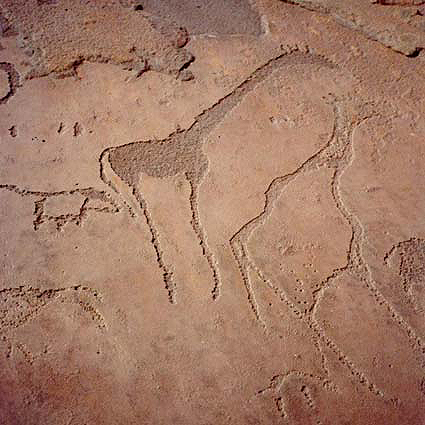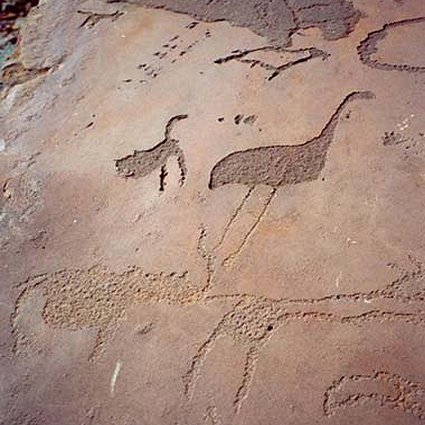 Below Riesenblock: Immediately below and west of the vertical engraved panels of the Riesenblock are three huge collapsed rock slabs at steep 40° to 50° angles. There are engraved antelope, many giraffe - including a very large one (
Figure 88
), equids, a large punctate-infill elephant, ostrich and spoor (
Figure 87
).
Threat(s) to site: The engraved imagery in the Affenblock has been heavily mineral stained. The pathway as it heads downhill to Site 10 past the Riesenblock is very heavily and deeply eroded and will need to be stabilised. On the Riesenblock someone engraved 'TL l JH 1978'. In a well-intentioned but disastrous management intervention, sandstone coloured cement was placed over this graffiti in order to hide it. Unfortunately, the colour of this cement wash does not match the Etjo sandstone and this intervention that was meant to conceal graffiti is now itself a highly visible distraction.
→
A Survey into the Relationship between Animal-Engravings & Cupules
→
The Rock Art of Twyfelfontein
→
The Rock Art of Namibia
→
The African Rock Art Archive
→
Bradshaw Foundation
Like us on Facebook & Follow us on Twitter to receive news & updates
: