APPENDIX 2 - TWYFELFONTEIN SITE REPORT BY SVEN OUZMAN

3/18
| | | |
| --- | --- | --- |
| | | Site 3 – Die Sieben Tafeln |
Site O on Scherz's Map (Site 3 in
Figure 2
)
S 20° 34' 27'' / E 14° 22' 38"
Site Description
Within 500m of the tip of the northernmost entrance to the Twyfelfontein Valley and in the Valley itself is Die sieben Tafeln. This site consists of a noticeable cluster of sandstone blocks between the large dry riverbed and the lower slopes of the valley sides on the 600m contour. There is a dirt track, quite well-used, leading almost directly to the site. The hiking trail also passes directly past the site. The cluster of sandstone blocks offers a number of passageways and cave-like spaces. No sight line to the main site but good views to the north and east.
Associated Archaeology
There is a very extensive surface scatter of quartzite and hornfels stone tools, concentrating at several of the cave-like spaces. There is also a noticeable presence of ostrich eggshell fragments and a few partly-worked such beads. Over the river on the valley floodplain/floor, there are numerous circular depressions, though it is not known whether these are cause by a natural or a human agency.
Description of die Sieben Tafeln rock art
Bushman rock engravings occur at least nine localities at this site complex and number perhaps 150-175 individual images. The central twice-split rock stack and the large angled rock table to its south-west have the densest concentration of imagery.
Central twice-split rock block: The dominant image cluster has dimensions of 2.5m x 2.2m cluster. The engravings are all pecked with combination of outline, infill and deeper outline with lighter infill. 6 giraffe (up to 880mm tall), 4 rhino – one of which depicts the white rhino species – 2 oryx, 16 other animals – probably zebra. More than 15 antelope spoor (aligned 'right way up' unlike Zeremonienplatz), 7 of which are very deeply engraved and the largest has dimensions of 110mm x 105mm. There is one zebra spoor. There are two cases of superimpositioning – in both cases zebra have been engraved on top of a rhino and a zebra respectively. There is one 4-toed human footprint.
Main cluster annexe: Here we encounter 11 animals – 2 giraffe (770mm tall), 2 zebra, 1 ostrich, 7 spoor (one of which is zebra and the rest antelope), 4 cupules (
Figure 68
). On lower, 60° sloping rock in the tight squeeze section that has 4 other animals engraved and at least 40 cupules that are between 25.5mm – 45.5mm in diameter and between 3mm – 8mm deep (
Figure 69
). These latter images are in a very awkward position and would have been so also for the engraver.
Passageway behind main image cluster: On the eastern side of the largest passage through twice-split rock are 12 animals engraved with a deep pecked outline and lighter pecked infill. There is an equid with partial pecked infill. 9 equids, 6 of which have the 'three-pronged' head. One very good kudu bull with characteristic curly horns and 1 giraffe with fat belly and rudimentary legs. There are one possible bird engravings and a square motif. On the facing, western part of the passageway at the southern end there are 2 rough-pecked giraffe and 3 rough-pecked partial-infill equids, an antelope and an antelope spoor.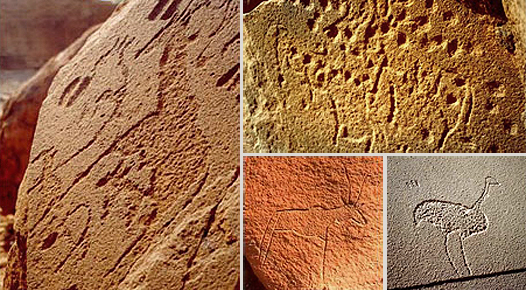 Left Figure 68, top right Figure 69.
middle bottom Figure 70, bottom right Figure 71
Rear vertical cluster: The back or western side of twice-split rock has two components – a vertical wall and a collapsed horizontal slab. The vertical wall has nearly two dozen pecked outline and pecked infill animals, mostly in deep pecked outline and rough pecked infill. There are 10 giraffe, 1 ostrich and 12 other animals – all equids. This imagery covers 4.7m x 1.9m of vertical wall.
Rear horizontal cluster: On the side of this collapsed rock are two antelope engraved (the one on the NE face shown in
Figure 70
). On the 20° sloping surface is an engraved cluster covering 2.9m x 5.4m and bears over 40 engraved animals- 18 giraffe, 3 black rhino, 21 equids, 3 of which are horned, 2 white rhino, 1 giraffe with good patterning on the neck, 19 buck, 2 elephant, 4 ostrich, and 22 large cupules, some of which are super-imposed on top of the engravings. The cupules have diameters of between 23mm – 64mm and depths of between 8mm – 18.5mm with flat bottoms where the engraved has gone through the thin outer layer of Etjo sandstone into the layer beneath. One rhino has 160mm long horn. There is a cluster of spoor – rhino, giraffe, antelope, equid and 1 human footprint. One giraffe has outstretched front legs.
Cave behind central twice-split rock block: Immediately behind and steeply upslope of the main site pulse is a cave-like space. Engraved into/out of the vertical cave walls is an antelope and an ostrich in a deep pecked-infill technique, a more lightly engraved equid and three unidentifiable quadruped animals. On the smoother northern cave wall ceiling is a carefully engraved antelope spoor and two pecked infill animal engravings. Opposite is a pecked-infill giraffe engraving whose feet end in spoor, which are shown in twisted perspective.
SW large sloping surface: Immediately SW of the central twice-split rock block is a huge angled slope of rock slab abutting another more squat rock block Over two dozen engravings including: a fat 680mm x 540mm ostrich (
Figure 71
), a giraffe, 17 equids in pecked-infill, pecked-outline and partial pecked-infill. There is one equid 'mother/parent-and-child' grouping. One partial pecked-infill oryx. One very large spoor. These engravings all made with a large, punctate peck, somewhat less fine than at the main site complex. Seven further animals beyond and a 175mm x 140mm spoor. On opposite and vertical slope there are 2 giraffe, 2 equids, 1 very fat animal and an excellent twirly-horned kudu bull with an oryx and another animal. Other: here and there on outlying rock blocks there are isolated engravings, some only partially completed.
Threat(s) to site: The dirt track to the site brings a fair number of visitors, but because there is no guided supervision for many of these visitors, they may be encouraged inadvertently to damage the engravings. For example a cross-like engraving has been placed on the most visible and easternmost image cluster of the central twice-split rock block. There is also a recent, imitative antelope pecked below the main imagery in the cave. Some names have also been scratched into the rock at various locations. People may also climb onto the SW sloping engraved expanse as well as the horizontal fallen and engraved block at the back/west of the central complex. The Etjo sandstone occurs in very thin layers and even slight pressure can cause it to crack and abrade. Scherz's 'O3' image cluster is (partially) missing (see his book, Tafel 145 # 3 and 148 # 2) from the site and is in the possession of the National Museum of Namibia. Natural threat includes water wash over some of the imagery.
→
A Survey into the Relationship between Animal-Engravings & Cupules
→
The Rock Art of Twyfelfontein
→
The Rock Art of Namibia
→
The African Rock Art Archive
→
Bradshaw Foundation
Like us on Facebook & Follow us on Twitter to receive news & updates
: