APPENDIX 2 - TWYFELFONTEIN SITE REPORT BY SVEN OUZMAN

11/18
| | | |
| --- | --- | --- |
| | | Site 11 – Twyfelfontein Main Site Complex |
Die Linke Talseite
Site F on Scherz's Map (F in
Figure 14
)
S 20° 35' 54'' / E 14° 22' 31"
Site Description
On the opposite side of the watercourse to Site 10 is Site 11, which consists of at least 30 engraved rocks with Bushman rock engravings (~150) and a few Khoekhoen rock engravings (~24). The most visually impressive sites are those that occur on large blocks of rock situated around what in the wet season will be water-filled pools.
Associated Archaeology
The context is similar to Site 10 with water damage and erosion though many stone tools are visible on the ground surface.
Description of die Linke Talseite's rock art
Springbockplatte (
Figure 89
): Located high up in the watercourse above all the waterholes is a large, upright rock block There is deep and fine pecked-infill imagery here that comprises 6 feline spoor, 6 equid spoor, 3 giraffe spoor, 5 antelope spoor, 4 giraffe, at least 10 springbok and a zebra. On a set-back rock facet there is a magnificent pecked-infill rhino whose feet end in a twisted perspective spoor view. There is also an oryx superimposed on an ostrich. There is also a second oryx and ostrich engraved.
Affenplatte: Down from the Springbockplatte is a weathered block with several engravings including a rare deeply engraved pecked-infill human figure. There is also engraved here a giraffe and kudu, as well as several animals, an oryx and an ostrich. Springbok and zebra are also present and on the side of this block are more antelope engraved.
Halbmondplatte: A little further down the watercourse on a very weathered vertical rock slab are some very weathered images of at least 4 birds as well as human figures. There are many animal spoor such as antelope, giraffe, feline, zebra and giraffe.
Giant elephant rock: On the southern side of the watercourse, perhaps 25m from the Halbmondplatte is engraved on a large vertical surface a 1050mm x 730mm elephant in both fine and rough deep pecked-infill in technique similar to the elephant at the Riesenblock. There are also two more lightly pecked rhino, a deeply pecked ?rhino, 2 giraffe, 3 small buck and 3 equids. There is a deep pecked-infill ?antelope spoor and 3 more recent-looking pecked-outline buck (
Figure 90
).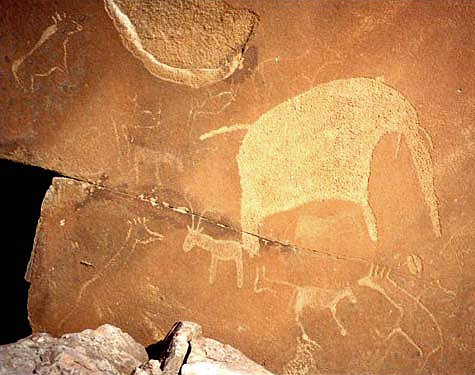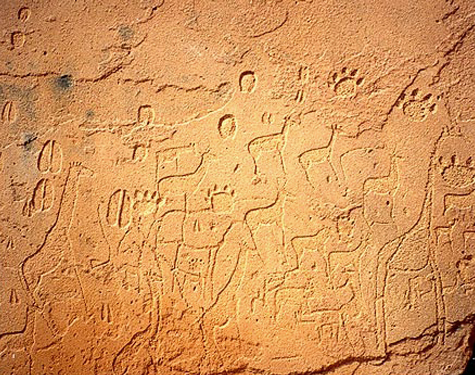 On a facing surface is a deep pecked-infill engraving of a bird-like motif such as is found at the Riesenblock and at Site 13.
Giant rhino rock (
Figure 91
): Downslope from the Giant Elephant rock and on the same level and in sight of the Löwenplatte is a large table-like rock located above a sandy water pool. There are 4 huge rhino (970mm x 480mm) rhino engraved here – the larger two in pecked-infill and the smaller two in pecked outline. There are also 2 giraffe in partial pecked-infill and 1 pecked-infill kudu with wiggly horns. An ostrich and three other engraved animals complete the engraved inventory for this rock. Adjacent to the rhino engravings on another rock there are 3 partial pecked-infill giraffe and 2 other pecked-outline animals. On vertical side nearby there are two more rhino, one in pecked outline and smaller pecked-infill.
Lower cave: A large rock block has tumbled sideways low down in the watercourse between and below the Löwenplatte and the large rhino rock. On this rock is engraved in deep pecked-infill a human figure carrying what may be a bow. There is also a large pecked-infill giraffe, an antelope and an ostrich.
Geometric rock: On a near-horizontal rock below the horizontal rock with the impressive rhinos is a collection of rough pecked-outline circles and other Khoekhoen geometric imagery (
Figure 92
).
Other imagery: This includes oryx, ostrich, giraffe – including a beautiful partial pecked-infill example (near the Giant Rhino rock), a strange 'tick' –like image, spoor engravings of giraffe.
Threat(s) to site: The bottom parts of the Springbockplatte are flaking off, though the rest of the rock block is stable. Dr. Scherz mentions that Mr. Levin maintained that imagery from Site 11 had been removed to the then State Museum in Windhoek. There is a big hook-flake off the top of the Giant Elephant rock and one wonders about the three more recent-looking buck that are engraved there. One of the steps used to get from Giant Elephant Rock to Giant Rhino Rock is, in fact, engraved with ostrich imagery that is damaged by people walking on it. There is a small amount of sandstone-scratched graffiti in places.
→
A Survey into the Relationship between Animal-Engravings & Cupules
→
The Rock Art of Twyfelfontein
→
The Rock Art of Namibia
→
The African Rock Art Archive
→
Bradshaw Foundation
Like us on Facebook & Follow us on Twitter to receive news & updates
: