APPENDIX 2 - TWYFELFONTEIN SITE REPORT BY SVEN OUZMAN

7/18
| | | |
| --- | --- | --- |
| | | Site 7 – Twyfelfontein Main Site Complex |
The Boulder Field
Site B on Scherz's Map (B in Figure 14)
S 20° 35' 41'' / E 14° 22' 21"

Site Description

There is an extensive boulder field between the Symbolfelsen (Site 6) and to within 40m of Levin's farmhouse ruin, where the visitor's reception area now is. Also east of the farmhouse ruins on the low slopes there are isolated engravings. The boulder field is dominated by Bushman rock engravings – up to 120 - and by cupules – over 200. The ground is undulating and most of the engravings are located above the tier on which the farmhouse ruins are situated. Very rocky walking with a good view to the west and also a bit south, up the valley. The boulders are mostly small to mid-sized, stand-alone and below the spring after which Twyfelfontein is named.

Associated Archaeology

There is a reasonably even and sparse scatter of stone tools throughout the boulder field. This area has been quite disturbed by farming activity and the making of paths.

Description of the Boulder field's rock art

Main cupule rock: One of 3 rocks on which there are many cupules. This large rock is situated on the southern side of the boulder field facing the visitor's centre. On a near-vertical face (70°) are engraved in fine pecked-infill 4 giraffe and 13 other animals and over 160 cupules (Figure 77). These cupules are between 20mm – 63.5mm in diameter and between 5mm – 17.5mm deep. On the side of this rock are an ostrich and rare human figure. Another such human figure is on the other side of the rock.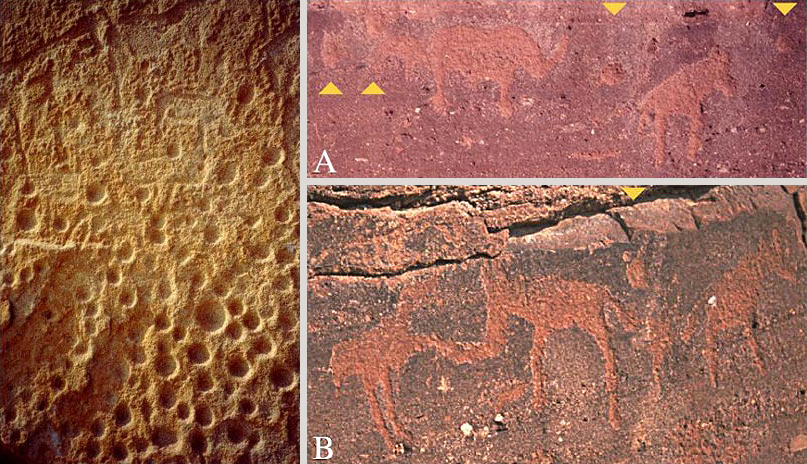 Figure 77 and Figure 78 A and 78 B

Second cupule rock: Located 10m immediately east and adjacent to the main cupule rock. Also on a 70° slope there are 20 cupules (27.5mm – 39mm diameter and 5mm – 6.5mm deep) and 8 fine pecked-infill equids, probably zebra. On the rock's second facet is an ostrich and six zebra-like animals and a possible human footprint engraved. Bulk of cupules on the lower surface.

Dark rock (Figure 78 A and Figure 78 B): Immediately south-east of the second cupule rock is a long, low rock slab on which pecked-infill giraffe, ?hyena, ostrich, rhinoceros – possibly with a calf, associated with 2 cupules (Figure 78 A) – are engraved. The ostrich is joined to an equid engraving by a pecked-infill line. There are at least two dozen animals engraved on this rock, most of them very weathered and patinated.

Third cupule rock (Figure 20): About 25m north of second cupule rock. Takes the form of a thin and weathered slab of Etjo sandstone on top of a medium-sized rock block. There are engraved in rough pecked-infill giraffe, ostrich and ?rhino, a 6-toed human footprint and 24 cupules that are between 26mm – 42.5mm in diameter and 8mm – 14mm deep. There are some pecked-infill wiggly lines engraved and also a 'cloud' of punctate marks. On the vertical side of the rock are engraved oryx, ostrich and equid and two very long-snouted animals in a very rough pecked technique. Perhaps 9 more cupules and could have been more but weathering has been severe. On a very large adjacent rock there are a further 7 cupules.

Ostrich rock: To the north is an impressive frieze of over 12 ostrich, a giraffe, rhino, 3 equids and a rare human figure engraved in the 'arms up'posture. Technically proficient engravings.

Hump sites: On the hillock above the boulder field are a number of smaller engraved rocks. Subjects include rings, ostrich, giraffe, equid, and at least six cupules. The imagery is widely dispersed and weathered.

Polished giraffe and recent graffiti sites: Higher up the slope above the farmhouse ruin en route to Site 8, there is a large, sloping rock block off on its own and to the east. On this there is Scherz's 'Riesentier' – a 1150mm long abraded giraffe. This is a very unusual technique of representation, but has found expression at Twyfelfontein at the Symbolfelsen and with the 'Fabeltier'. There are also two ostrich and two concentric circle motifs, as well as various other rough pecked geometric imagery, such as a dumbbell and other pecked-outline circles that have been damaged by exfoliating rock surface. To the north of this site is another, just off the path where it begins to get steep near the spring. Here a rhino, ostrich, small animal and quadruped are engraved in pecked-infill and partial pecked-infill. The more recent initials of a person have also been engraved into the rock with a metal instrument.

Threat(s) to site: Though visitors do not typically visit the boulder field, it nonetheless has a very scrappy appearance. There is a lot of litter scattered about the boulder field. The lack of paths makes walking through it difficult, but this may not be a bad thing. There is also a 'GJvD' engraved on a site lower down – this was also photographed by Scherz. Small isolated incidents of graffiti are evident among the boulders. The engraved initials on the one engraved panel show how important access control on a 24-hour basis is. The weathering at the boulder field sites is often severe.

Note on Sites 8-13: Sites 8-13 (C-H) are situated on either side of a seasonal runoff from the valley top and on two large flat living areas on small plateaux. The Twyfelfontein spring is located between Sites 7 and 8 and provided the focus for the settlement. Even though on the opposite side of the valley there is a large seasonal waterfall and the Hauss river, these are seasonal, while the spring is permanent albeit slow. The view is dominantly to the west with some views possible up and down the valley in places. There are sites right on top of the valley sides, but these are not listed here, and may be found in Dr. Scherz's excellent book, which describes and quantifies virtually all the Twyfelfontein imagery.

→ A Survey into the Relationship between Animal-Engravings & Cupules
→ The Rock Art of Twyfelfontein
→ The Rock Art of Namibia
→ The African Rock Art Archive
→ Bradshaw Foundation

Like us on Facebook & Follow us on Twitter to receive news & updates:



Follow @BradshawFND and #Discover the World's Oldest #Art https://t.co/93KSOt9IdP #archaeology #history #prehistoric pic.twitter.com/yvDBJmR5Wq

— Bradshaw Foundation (@BradshawFND) February 18, 2016