BY MAARTEN VAN HOEK
Including the Site Report on Twyfelfontein by Sven Ouzman
Rock art, in short, prehistoric and historic imagery making, mainly on natural rock surfaces, often accumulated at one specially selected site, even on one particular specific rock art panel. Simultaneously, nearby and, inexplicably to our Western minds, equally suitable sites or rock surfaces were ignored. Both the reasons to select that specific site or panel and the reasons to ignore the other rocks are often completely obscure to us.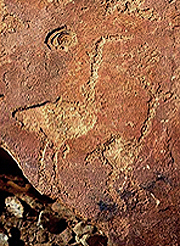 However, it seems that the first mark (this may also have been a natural mark in or on the stone!) repeatedly seems to have triggered the execution of subsequent rock art images. This psychological process results in an often confusing "cocktail" of various rock art traditions at one site or on one panel. Frequently, such panels comprise imagery consisting of miscellaneous rock art elements expressing different symbolism. One of the most enigmatic accretions that may appear on rock art panels is represented by the combination of cupules and animal imagery. In many cases there seems not to be any apparent relationship between those two much differing rock art elements.
This is mainly due to the enigmatic character of the cupule. Cupules are small, hemispherical, non-utilitarian depressions in a rock surface.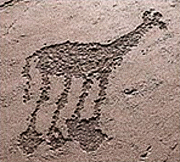 This essay tries to inventory and explain the various combinations of cupules and animal imagery. However, isolated examples would have little or no general explanatory value. It was therefore essential to find a suitably small study area where both cupules and animal imagery co-occurred in sufficient numbers to allow careful observations. One of the best candidates proved to be the rock art group of
Twyfelfontein
,
Namibia
, where an enormous amount of rock art concentrates in a relatively small area and where several combinations of cupules with animal engravings had been reported.
Surprisingly, only one (fortunately rather comprehensive) survey of
Twyfelfontein
rock art in
Namibia
,
Africa
, proved to have been published, dating back, however, some thirty years (Scherz 1975). For that reason my wife Elles and I surveyed the area for several days in July 2001. To my surprise we could locate more cupule rocks than previously reported (Van Hoek 2002). Therefore I decided to aim at two goals in this survey.
The initial target of this work was to inventory several examples of the cupule-animal combination in rock art and consequently to try to access the meaning of the possible relationships. But after having surveyed Twyfelfontein, it also became essential to carry out a complete survey of the cupule rocks at that site. Therefore this essay features two parts. The first part inventories the results of the 2001 cupule survey at
Twyfelfontein
, whereas the second part offers several analogies, attempts at interpretations and the conclusions. At the end of the survey,
Appendix 1
provides statistical information, whereas in
Appendix 2
, written by
the extensive
Site Report on Twyfelfontein
, written by
Sven Ouzman
in 2002, has been included, providing further background information and most useful suggestions as to how manage and protect Twyfelfontein in Namibia.
Maarten van Hoek
Oisterwijk, January 2003
Tacitas or cupules? An attempt at distinguishing cultural depressions at two rock art sites near Ovalle, Chile.
In RUPESTREWEB:
http://rupestreweb.tripod.com/tacitas.html
→
A Survey into the Relationship between Animal-Engravings & Cupules
→
The Rock Art of Twyfelfontein
→
The Rock Art of Namibia
→
The African Rock Art Archive
→
Bradshaw Foundation
Like us on Facebook & Follow us on Twitter to receive news & updates
: