BRADSHAW FOUNDATION - LATEST NEWS
How Art Began with Antony Gormley
Thursday January 2019
How Art Began with Antony Gormley
Saturday 26th January 21:00
BBC TWO
For those who can watch, this is highly recommended.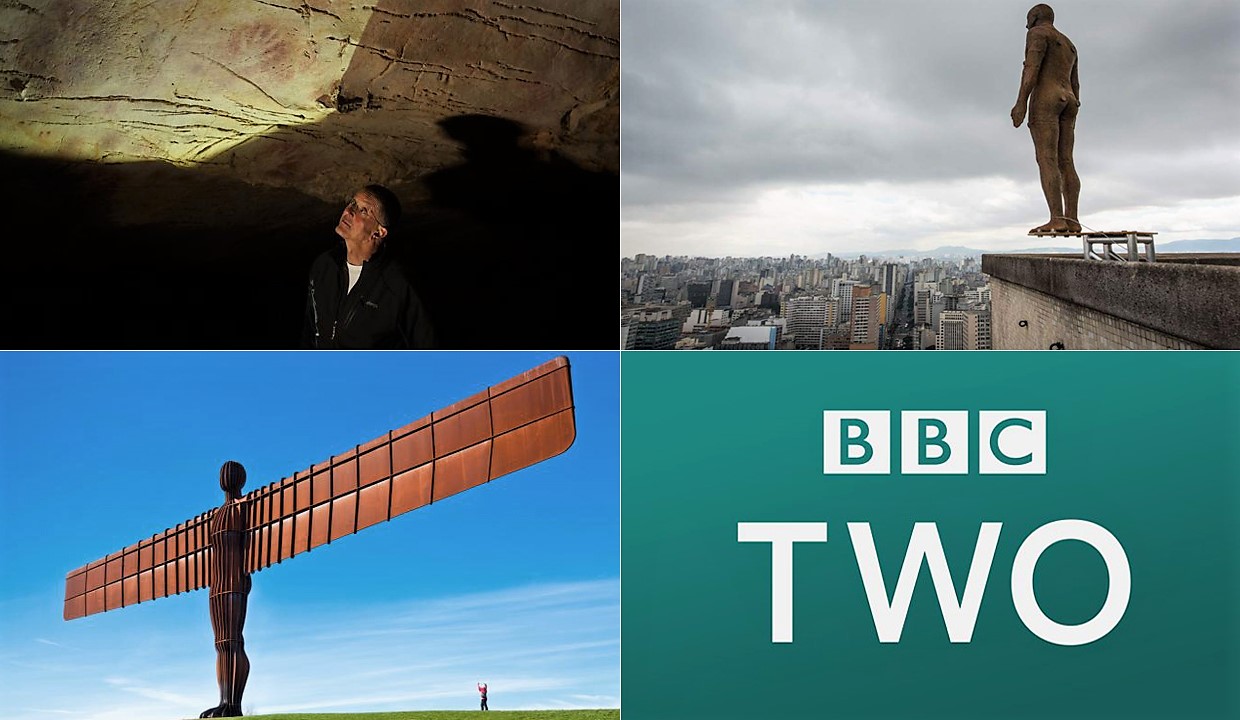 The artist (top left) in France. Image: BBC. The Angel of the North (bottom left) by Antony Gormley. Image: Getty Images
Event Horizon (top right) by Antony Gormley in Sao Paulo, Brazil. Image: AFP/Getty.
Why do humans make art? When did we begin to make our mark on the world? And where? In this film, Britain's most celebrated sculptor Antony Gormley is setting out on a journey to see for himself the very beginnings of art.
Once we believed that art began with the cave paintings of Ice Age Europe, tens of thousands of years ago. But now, extraordinary new discoveries around the world are overturning that idea.
How Art Began with Antony Gormley. Saturday 26th January 21:00
BBC TWO. Why do humans make art? When did we begin to make our mark on the world? And where? https://t.co/SFX1BV2ld1 pic.twitter.com/kTX8H2OYHx

— Bradshaw Foundation (@BradshawFND) January 24, 2019
Gwion Gwion painting in the Kimberley region of north-western Australia.
Antony is going to travel across the globe, and thousands of years back in time, to piece together a new story of how art began. He discovers beautiful, haunting and surprising works of art, deep inside caves across France, Spain and Indonesia, and in Australian rock shelters. He finds images created by hunter-gatherers that surprise him with their tenderness, and affinity with the natural world. He discovers the secrets behind the techniques used by our ancestors to create these paintings. And he meets experts making discoveries that are turning the clock back on when art first began.
Finally Antony asks what these images from millennia ago can tell us - about who we are. As he says, "If we can look closely at the art of our ancestors, perhaps we will be able to reconnect with something vital that we have lost."
In a recent article by Richard Morrison in The Times, Antony Gormley explains that "Art is being ignored and that's a tragedy and a travesty."
Article continues below
For the first and (he says) last time, Sir Antony Gormley has turned TV presenter. Britain's foremost sculptor, now 68, has no illusions about the result: a 75-minute BBC Two film called 'How Art Began'. "I'm not Simon Schama or Kenneth Clark, telling you everything you need to know about something and what you should think about it," he says. "I am just going down some holes and the camera is there filming my reactions to what I see."
Gormley explores this ancient art on a global scale. He visits the dancing figures of the Gwion Gwion paintings in the Kimberley region of north-western Australia, believed to be more than 22,000 years old. He then considers the recent discovery of a 5 ft. long ochre depiction of a bull in the Lubang Jeriji Saleh cave of Indonesian Borneo has been dated as being between 40,000 and 52,000 years old.
What do such ancient paintings tell us about early humans? "They tell us that art - the idea of expressing things that were part of, but went beyond, everyday reality - came right at the beginning of humanity's existence, perhaps around the same time as we learnt how to cook and speak, and that it was a completely natural activity," Gormley says. "Look at the cave paintings. You realise that art was essential, universal, a part of human life from the start. And that's a message that needs to be shouted from the rooftops."
"When the artists in the caves so obviously acknowledge humanity's dependency on other life forms, they are sending a vital message to today in a way they could never have realised."
https://www.bbc.co.uk/programmes/b0c1ngds
COMMENTS