BRADSHAW FOUNDATION - LATEST NEWS
Levantine Modern Humans and Neanderthals
29 Jan 2015
A new paper in the journal NATURE Nature (2015) doi:10.1038/nature14134 - Levantine cranium from Manot Cave (Israel) foreshadows the first European modern humans - by Israel Hershkovitz et al reports on the partial skull recently discovered in Manot Cave in West Galilee, Israel. This may provide evidence that modern humans interbred with Neanderthals and that the two species co-existed in the same region around 55,000 years ago rather than encountering each other in Europe 10,000 years later.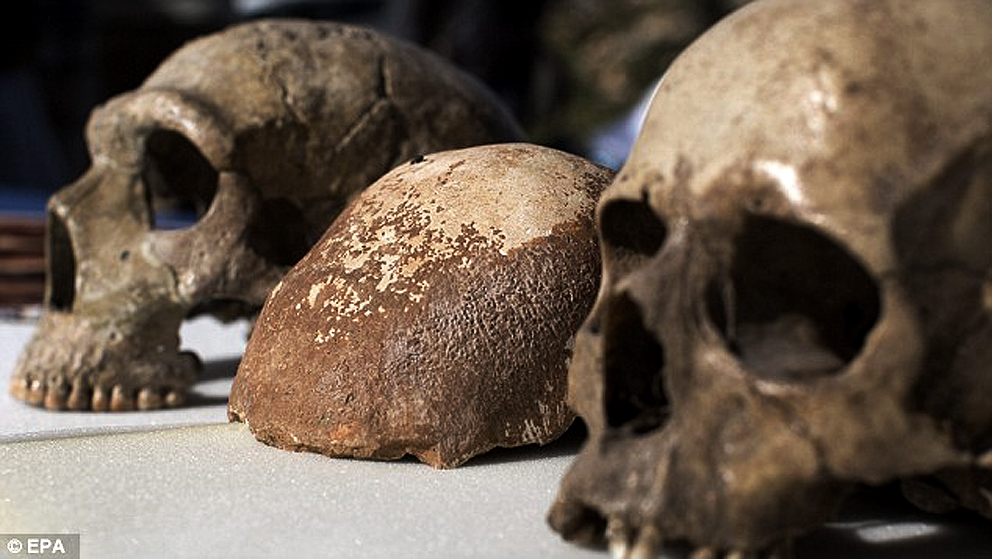 Abstract:
A key event in human evolution is the expansion of modern humans of African origin across Eurasia between 60 and 40 thousand years (kyr) before present (BP), replacing all other forms of hominins1. Owing to the scarcity of human fossils from this period, these ancestors of all present-day non-African modern populations remain largely enigmatic. Here we describe a partial calvaria, recently discovered at Manot Cave (Western Galilee, Israel) and dated to 54.7 +/_ 5.5 kyr BP(arithmetic mean +/_ 2 standard deviations) by uranium-thorium dating, that sheds light on this crucial event. The overall shape and discrete morphological features of the Manot 1 calvaria demonstrate that this partial skull is unequivocally modern. It is similar in shape to recent African skulls as well as to European skulls from the Upper Palaeolithic period, but different from most other early anatomically modern humans in the Levant. This suggests that the Manot people could be closely related to the first modern humans who later successfully colonized Europe. Thus, the anatomical features used to support the 'assimilation model' in Europe might not have been inherited from European Neanderthals, but rather from earlier Levantine populations. Moreover, at present, Manot 1 is the only modern human specimen to provide evidence that during the Middle to Upper Palaeolithic interface, both modern humans and Neanderthals contemporaneously inhabited the southern Levant, close in time to the likely interbreeding event with Neanderthals.
Scientists led by Professor Israel Hershkovitz of Tel Aviv University believe that this partial skull may now provide the evidence of the time and place of interbreeding. According to palaeontologist Bruce Latimer, Case Western Reserve University (CWRU) in Cleveland, Ohio, the partial cranium which was covered in a patina of minerals allowed the team to use the uranium-thorium dating technique in order to determined the age of the skull ? somewhere between 50,000 and 60,000 years old.
The brain itself would have been relatively small, around 1,100 millilitres, compared with the modern human brain of roughly 1,400 millilitres. Several features of the cranium resemble a modern skull, but some do not, such as the lack of the occipital bun - a bony formation on the back of the skull. This feature is present in Neanderthals.
The scientists are now hoping to investigate DNA data to establish whether the Manot skull contains Neanderthal DNA from an interbreeding event. Not only that, it is hoped that the Manot cave will reveal more complete specimens from this critical region and time period.
Visit our Origins section:
http://www.bradshawfoundation.com/origins/index.php
COMMENTS