BRADSHAW FOUNDATION INTRODUCTION

Page 9/11
HUA'AN AND LIANYUNGAN (Fujian)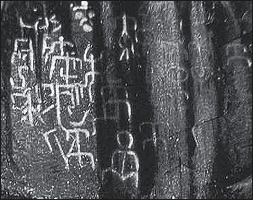 There are five rock art sites have been discovered in the southeast coast area. Such as Lianyungang, Jiangsu; Hua'an, fujian; Wanshan, Taiwan; Zhuhai, Guangdong and the ancient rock carvings in Hong Kong.
About the Hua'an rock art, we have an ancient literature of Tang dynasty (618-907 A.D.) said: there is a mountain, at its foot is a very deep pool dwelling an evil crocodile that always did harm to the villagers and they had to move to other places. One night it thundered hard. The mountain was shaken so hard and felling into the pool. The evil crocodile was stoned to death. The pool water, with the crocodile's blood, flowed over the fields. At the same time an inscription appeared on the cliff.
Around 1915, Prof. hua first discovered Hua'an rock art. Seventy years passed, in 1985, I went to Hua'an and found the pool (Taixi) become very different now, the water comes rarely and when it does, the flow is rapid creating many shoals. As a result it is very difficult to navigate, but in two banks the mountains and rivers are emerald green.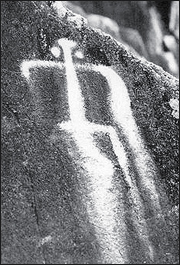 Here, Taixi makes a winding, forming a deep pond, about 10 meters across. The southern bank is a sheer cliff, about 30 meters high containing six separate groups of engravings.
Hua'an rock engravings are highly stylized or abstract. There enigmatic quality has tempted many people in to guessing at their meaning. Scholars considered the engravings like some ancient writing of minority ethnic group.
After my investigation In the May of 1985, I considered the subject matters of Hua'an rock engravings are dancers, masks and animals. The masks may be related to the dancers, in some primitive dances, the participants wear masks, legs squat, arms raise, naked and under the buttocks a tail dress. Breasts always mark the females. The atmosphere of this dance is rough and enthusiastic. It is not surprising that the images of the figures are similar to the strokes of Chinese ancient writings; Chinese traditional painting emphasizes likeness in spirit rather than form. Perhaps this is the main difference between Chinese and Western ancient rock art.
Like us on Facebook & Follow us on Twitter to receive news & updates
:
→
The China Rock Art Archive
→
Bradshaw Foundation