BRADSHAW FOUNDATION INTRODUCTION

Page 10/11
Rock art is a history book written on rocks
Rock art contains the most ancient testimony of human economic and social activities, ideas, beliefs and practices. Rock art also contains the most testimony of human imaginative and artistic creativity, long before the invention of writing, and constitutes one of the most relevant aspects of the common cultural heritage of humanity. Some general characters seem to be common to all rock art areas in China.
The lack of sophistication in composition reflects the simplicity of man's infant imagination, but no matter what their technical limitations, the pictures, whether carved or colored, achieve a realistic and vigorous vitality that later artists must struggle to recapture but which appeals to us directly over the centuries.

The compositions are naive and simple, reflecting the desires of the people in their early development. In a picture from Gonxian the fish caught by a fisherman is even large than the man himself. No doubt the artist hoped to have the chance of catching such a large fish. Another picture in Yinshan described a scene of hunting, in which two hunters are firing arrows at two long horns goats; they hit the goat's head and chest. How lucky they were.
The artists were skilled at representing images of animals. The engravings of Inner Mongolia and Xinjiang include a great number of very life-like representations of sheep and goats. The artists of southern China were familiar with monkeys and buffaloes. One of the Cangyuan rock paintings shows monkeys climbing the mountain hanging their tails downward while those going down hill have their tails upward. This shows that the artists were well acquainted with monkeys. Even though the figures are flat, great expressiveness was achieved by full use of the silhouettes. In this case, emotions, including violent feelings, are expressed. These methods are simple but also clever.
The characteristic of this art is a combination of sharp observation and rough style. The rough, freehand figures are very true to life, an effect that later artists have often failed to reproduce, despite many attempts.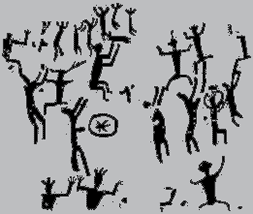 Most of the drawings probably have religious significance, a few of them however, may still be considered to be secular. Some scenes of daily activities such as dances and acrobatics shown in rock art are also relevant to certain ceremonies or rituals.
Thus we accept for that the rock art artist has a situation similar to that of art and artists at all times. The Greek artist created his masterpieces for the decoration of temples; the Romanesque and Gothic artists did the same things for their churches. As Altamira, the cave in Spain, has been called the "Sistine Chapel" of Quaternary art. So, this indicates that "art for art's sake" is rarely true in rock art.
Besides, China's rock art have special meaning itself, that they led the birth of Chinese pictographs writing.
Like us on Facebook & Follow us on Twitter to receive news & updates
:
→
The China Rock Art Archive
→
Bradshaw Foundation