Out in the Back Country by Hugh Brown

Page 7/7

The country at the top of the ravine was every bit as rugged as I had experienced the night before. Upon identifying the point at which we had the evening before commenced our descent, I started down and found Kanch was alive, but distressed and dehydrated and would not let me touch him. I was standing on a ledge that was not more than one foot wide, and the drop was 180 feet straight down. Between his cave and me there was one small ledge of not more than six inches in width.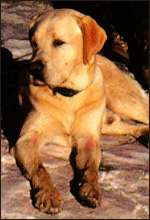 I recall feeling very fatalistic as I stood on the small ledge and reached into the cave and pulled Kanch out by his tail to the cliff edge of his cave. Pulling Kanch out from the cave and holding him by his skin could pull me out over the edge of the cliff. The challenge rested upon resisting that momentum and managing my own fear to see whether I could get Kanch out.
Having got Kanch out of the cave I now had to get him along the ledge and across the crevice in which we had been stuck the evening before. I salvaged four tiny pieces of rope from the chopper and hauling him up the cliff praying my knots would not come undone. Poor old Kanch did not know what day it was.
I look back on the trip - despite its ending - with a great feeling of satisfaction and a sense of achievement. The country was brutal, and often when I look at Kanch now, I think of the night during which he was stuck on the cliff and my feelings that I might have decided to leave him there had the chopper pilot not come. I still have trouble comprehending the thought.
It took a while, but Kanch seems to have forgiven me and we are friends, but I am not sure he would follow me on such a trip again, and I don't blame him.
| | |
| --- | --- |
| | Recommended Reading - Hugh Brown Publications |
In 2003, while sitting in Froghole Chasm in Purnululu National Park in Western Australia's Kimberley region the idea came about for Hugh's first book: The Kimberley : Australia's Wild Outback Wilderness. This was followed in 2005 by The Pilbara "Outback Australia's Kaleidoscope of Colour", and then in 2006, by Hugh's first hard-cover large format book, The Kimberley: Tierra De Mi Alma - Land of My Soul. In September 2007, Hugh released his second large format coffee table book, The Pilbara: Australia's Ancient Heartbeat. To find out more visit
www.hughbrown.com
Like us on Facebook & Follow us on Twitter to receive news & updates
:
→ Out in the Back Country by Hugh Brown | Page |
1
|
2
|
3
|
4
|
5
|
6
|
7
|
→
The Australian Rock Art Archive
→
Bradshaw Foundation