Out in the Back Country by Hugh Brown

Page 5/7

"To say that I'm a physical and aesthetic wreck would be a big understatement. I took two nasty falls on that portion, including one face plant into a small canyon. That's what severe exhaustion and dehydration do to you! Having said all that, Kanch was absolutely fantastic. He did incredibly well through what was very punishing terrain. We're both covered in spinifex sap, which is quite sticky, and Kanch, particularly, is black. Getting through that section today has given me some confidence, as I had been worried about it from the start. I'll be even happier when we get back onto the Charnley some time tomorrow. We're now about a mile up a tributary of the Charnley and it is quite beautiful. To get here meant a difficult climb down a scree slope to Pandanus Palms and a small stream".
By the end of day eight, I was two days ahead of schedule and sitting at the junction of Synnot Creek and the Charnley. The preceding two days had been relatively good walking, and I had enjoyed a camp at the base of a beautiful waterfall. Upon leaving the river and hiking to the top of a saddle to cut around a gorge that dropped straight into the river, my anxieties were heightened when, while walking down a dry creek bed, I nearly stepped on a snake. It is always difficult to tell the species of snake here in the Australian Kimberley as colorations vary markedly but the encounter had been too close for comfort: especially given that I was moving downhill and the pack weight kept pushing me forward. I had struggled to miss it, although Hann had enjoyed an even closer experience in this area in 1898:
"A new kind of snake went over my feet, killed him, a most deadly description of snake, had he bit me it would have been all up with me. I could not finish my map".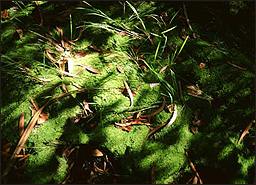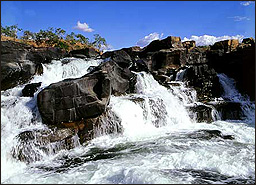 The commencement of day nine saw excellent progress: far better than I could ever have expected. Prior to the trip, I had anticipated that I would cover two miles per day in this area. However, by eleven am, I had already covered three miles and was thinking ahead to a week's fishing for Barramundi on the river's lower reaches, how I would manage Kanch in the presence of crocodiles and being able to view more rock art. Such thoughts would soon prove to be highly premature.
"So much for the previous enthusiasm! I'm feeling a bit like a nervous wreck here at the minute. We've just taken two hours to cover a third of a mile. First, Kanch had an accident when he fell while I was trying to push him up a cliff. Stupid error of judgment on my part. We'd come to a dead-end so far as access along the river was concerned and we had to climb up and around. Me, being me, figured that we would be able to accomplish a cliff climb that was never really on. Anyway, Kanch froze and ended up on his back 36 feet below. Plus, I was very lucky that I didn't fall as well. I would have done much more damage than what Kanch did".
"Then, a minute ago, we came too close for comfort to a fast-moving King Brown that was about two feet away. So, I'm just sitting currently to calm the nerves a bit. I can tell you that this is not an hospitable place: incredibly tough in fact. When things like this happen, the isolation really hits home. I just want to cover half a mile now so that we can make the next food drop. I'm not so sure I like this solo caper at the minute. Thank god for Kanch".
Like us on Facebook & Follow us on Twitter to receive news & updates
:
→ Out in the Back Country by Hugh Brown | Page |
1
|
2
|
3
|
4
|
5
|
6
|
7
|
→
The Australian Rock Art Archive
→
Bradshaw Foundation