Out in the Back Country by Hugh Brown

Page 2/7

Initially, I had intended to walk the Charnley with a couple of friends from Broome who also shared a strong interest in this part of Australia. However, illness and work commitments prevented them from coming, and I determined, in the interests of my photography, that I would attempt to walk the river system with Kanch my golden Labrador dog in July to ensure that the expected August/ September bushfire smoke did not interfere with my photographs. I first visited the Charnley in September 1999. On that trip, I had journeyed into the starting point of the hike, near the Walcott Inlet, with friends, but ended up undertaking the trip alone after my companions determined that the risk of snake bite and crocodile encounters plus temperatures reaching 100 degrees. The pictures below provide an illustration as to how rugged the gorge section I hiked in 1999 in fact was.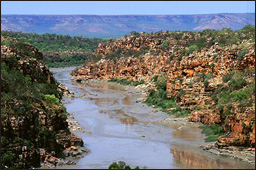 For the walk, I would be carrying 75 lbs. of gear: including a large bowe knife, a Magellan-sponsored GPS, an EPIRB (an emergency satellite beacon), a pocket-sized survival kit (in the event that I became disentangled from my gear), a hat, strong boots and gaiters. Kanch would be carrying his own specially-designed dog pack that would hold his food between the food drops.
I carried a diary to record my impressions of each day, the keeping of which was in fact harder than one would anticipate, as I was to discover, given the exhaustion that prevailed when not walking.
In country such as this, and carrying the amount of gear that I was, small things become more challenging and each day further tested my mental reserves. The helicopter reconnaissance flight had shown my readings of the maps to be accurate and the first few days would be covered predominantly along sand, which in itself was brutal, and beside Melaleuca-lined pools. Camp one, which I still recall fondly, saw me record the following notes:
"Sun's gone down. Dinner's cooking. The reflections in the water were absolutely magnificent. Stunning!. It's so peaceful and magic out here. Kanch and I are both pretty tired, but it's great having Kanch along because it takes your mind off your own pain. Kanch struggled a bit, but has done fantastically overall. I'm on the easy bit and the country is still brutal. Lugging 75 pounds of gear doesn't help. Saw heaps of animal tracks in the sand today. Marvellous! Dingoes, Wallabies, Freshwater crocodiles and heaps of bird tracks."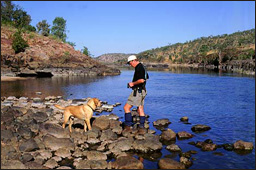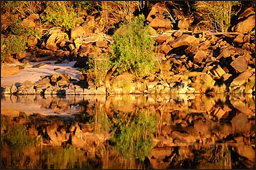 Days two and three revealed country that was much the same as the first. I was lucky to cover more country than I had scheduled. The fishing was amazing soon caught enough for a good meal. The power of this river in flood must provide for an awesome spectacle, and I was later to learn from conversations with people at the Broome office of the Department of Conservation and Land Management, that the flood had peaked at levels of up to sixty-five feet during this years wet.
Like us on Facebook & Follow us on Twitter to receive news & updates
:
→ Out in the Back Country by Hugh Brown | Page |
1
|
2
|
3
|
4
|
5
|
6
|
7
|
→
The Australian Rock Art Archive
→
Bradshaw Foundation