TALKING STONE - DR. ALAN P. GARFINKEL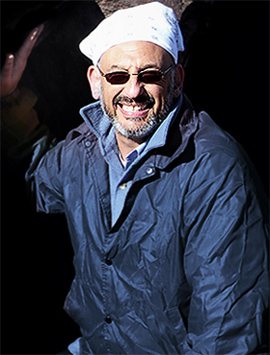 Dr. Alan P. Garfinkel
Alan Garfinkel has been interested in Coso rock art and the indigenous cultures of eastern California for over three decades. He is self employed and serves various public and private clients, through AGG Associates - Cultural Resource Management Consultants, working out of offices in southern California.
His initial association with the Coso Region came with a Bureau of Land Management graduate internship where he completed the National Register of Historic Places nomination and a cultural resource management plan for the protection and public interpretation of Fossil Falls and Little Lake at the western edge of the Coso Range. At about that same time, he completed survey work and excavations, identifying upland pinyon forest archaeological sites and Coso Style paintings along the proposed route of the Pacific Crest Trail in the far Southern Sierra Nevada.
These and other studies became the basis for his Ph.D. dissertation from the University of California, Davis. That research was published in monograph form through the Maturango Museum in Ridgecrest, California (Archaeology and Rock Art of the Eastern Sierra and Great Basin Frontier, 2007).
Dr. Garfinkel has focused his research interests geographically and topically. His studies have been aimed at understanding the rich and complex archaeological record of the far Southern Sierra Nevada, Tehachapi Mountains, western Mojave Desert, and southwestern Great Basin.
In his studies, Garfinkel attempts to bring the rich rock art record of the Coso Range into discussions of the prehistoric archaeological record of the area with an attempt to integrate these into a fuller picture of prehistoric lifeways and culture change. His research focuses on linguistic prehistory, prehistoric population movements, forager religion, animal ceremonialism, and Numic Ghost Dance paintings. Most recently his work has been framed in close collaboration with Native peoples (e.g. Garfinkel and Williams 2011, Handbook of the Kawaiisu).
→
Talking Stone - Rock Art of the Cosos