South Asian Studies 6 - 1990

Page 2/2
After studying the magnificent detail of several 'religious stones' along this wall, we scrambled over them and headed through the clear, shimmering and pollutionless air of Central Tibet. We tested the water on the shore of Lake Namtso, jumped in and started swimming to relieve our parched skin from that hot sun. But in just seconds we raced back to the bank to recover from the shockingly cold water a short distance out from shore. We had not stopped to think that the water covering the shallow bank's rocks was being heated by the radiant sun, masking the unbelievably frigid water just beyond.

In the late afternoon the other travellers started thereturn to camp and I too began walking in that direction. However, I spotted one in our party heading in another direction and immediately joined her. It was there we discovered two small caves about 3 or 4 metres high and about 2 or 3 metres deep at the entrance, the rock walls covered with incredible paintings.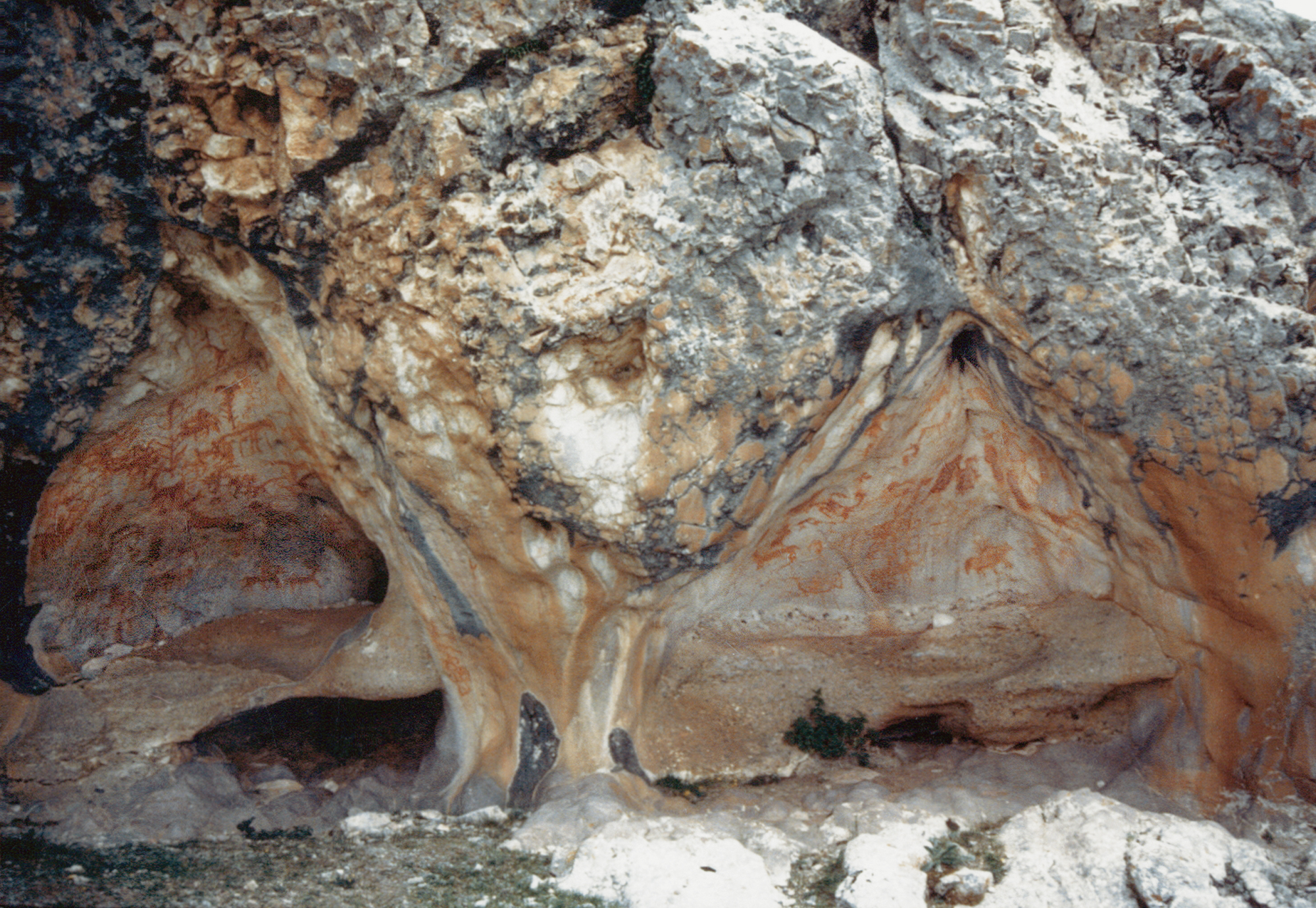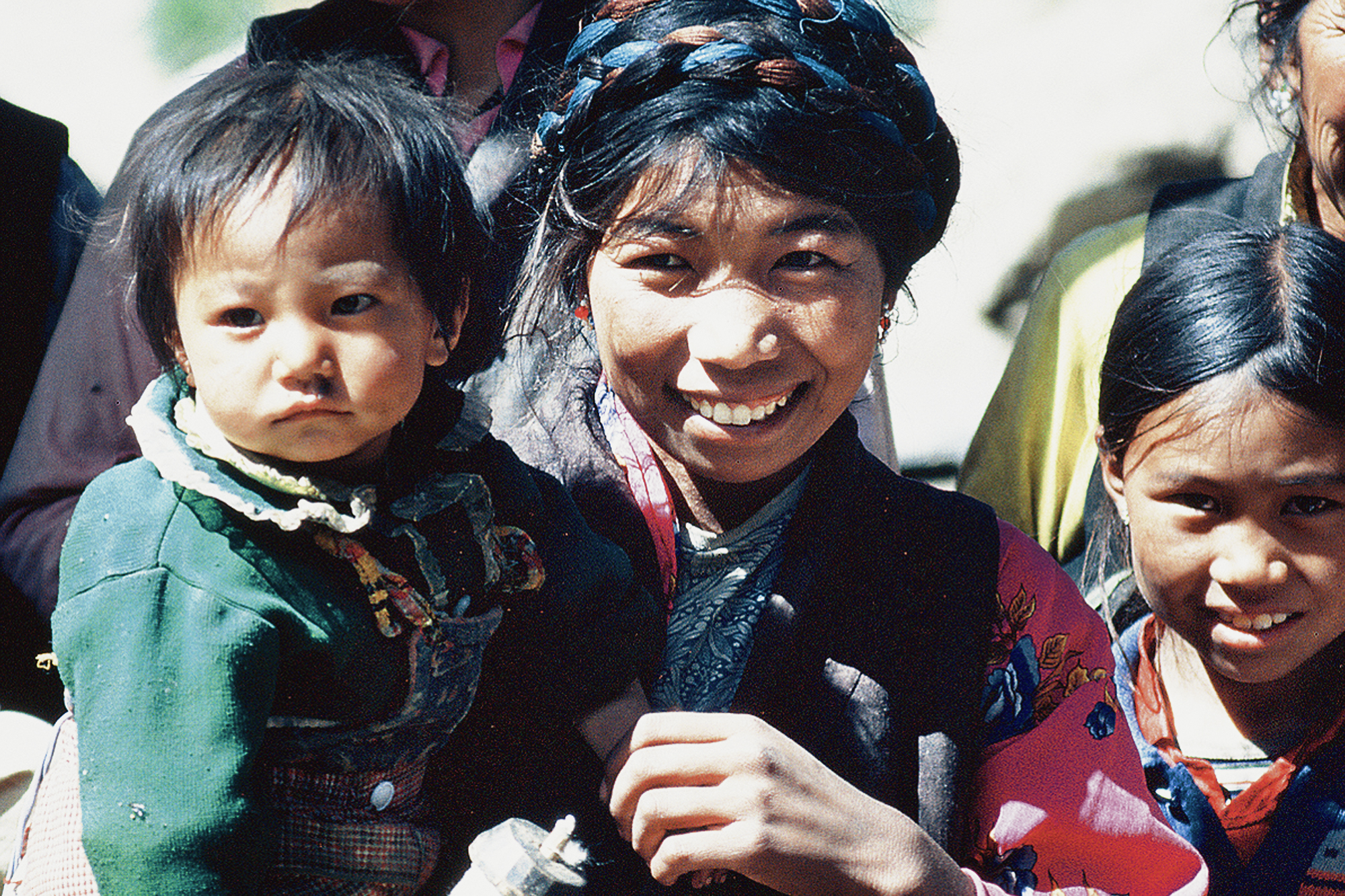 They were so well preserved my first thought was that during the Cultural Revolution some Chinese in the area had decided to create these drawings to play a joke on future tourists. In any event, the drawings were so beautiful and fascinating that we began to photograph them for our own enjoyment!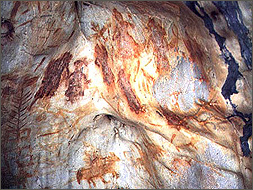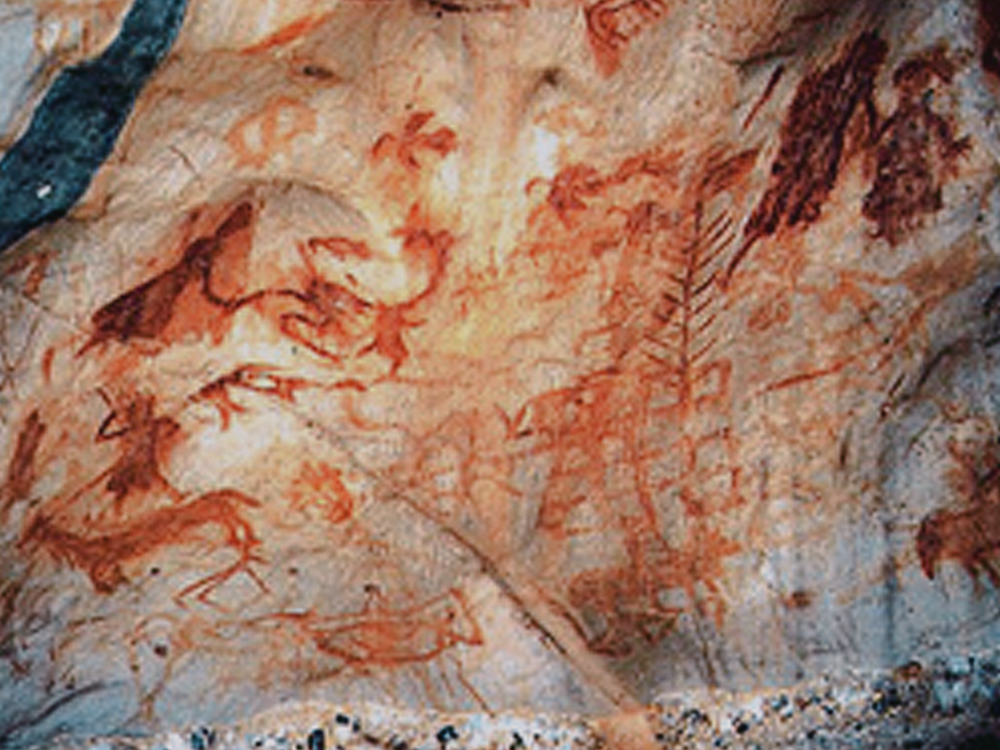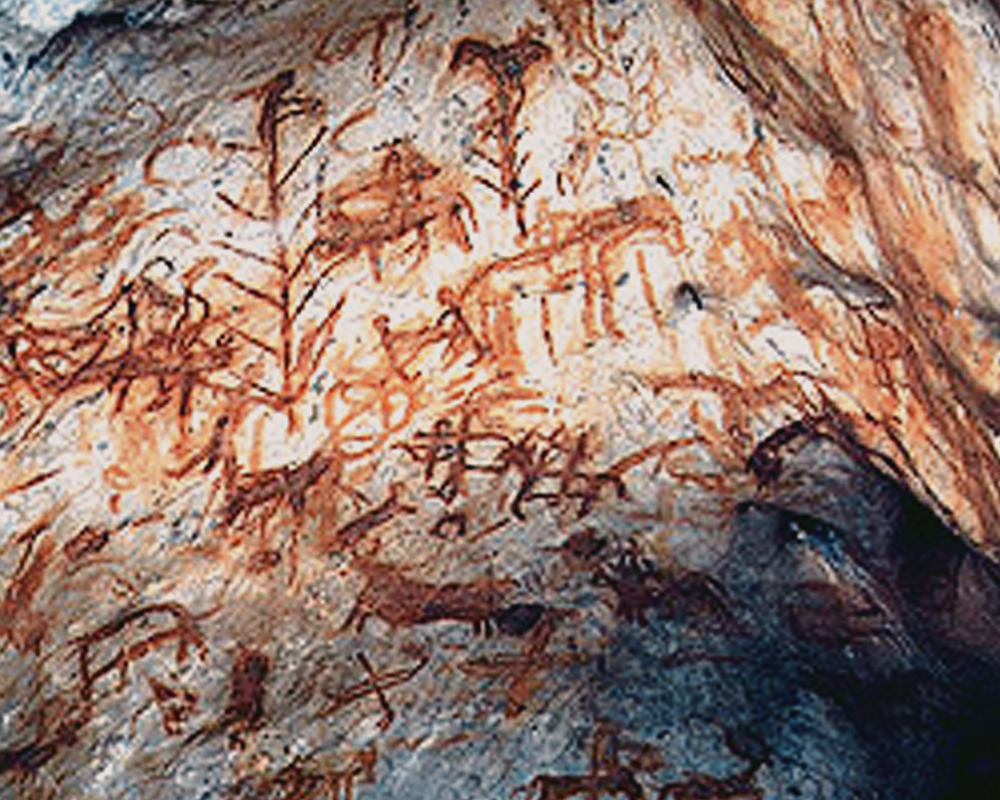 While taking the snapshots I began to think I might be mistaken in my scepticism. Why shouldn't these drawings be well preserved? Located safely out of the direct weather and in an incredibly stable, dry, pollution-free environment, they were protected from destruction or decay and were most likely intact. Additionally the caves are in an area frequented only by a few monks on holy pilgrimages or the occasional nomad herding the few yaks who can exist on the sparse grasses of the lake bog.
The walls of these caves were of quite smooth, off-white limestone which appeared to be water cut and stained by a blue mineral, possibly azurite. The drawings were spectacularly clear, and we photographed almost all that we saw.
The figures are drawn in red to reddish-brown and yellow-brown pigment, most being 15 to 25 centimetres tall. Some appeared to be quite similar to photographs of rock drawings of horned animals and horses we had seen in museums. Many of the animals and people in the drawings had an oriental appearance: one particular drawing was about 20 centi- metres tall and seemed quite oriental, the person dressed in a typical oriental gown or robe. I wondered if this drawing could have been added much later than some of the work that appeared to be more primitive?
Unfortunately I could not study the pictures carefully enough to determine whether or not one could clearly discern different periods for the drawings. I leave that task to readers who might possibly go to Tibet and visit this off-the-beaten path, glorious and holy place. It is a dream fulfilling journey and well worth the effort of travelling there.
Robert A. Hefner III
Bradshaw Foundation President
→
Go to Page 1
Like us on Facebook & Follow us on Twitter to receive news & updates
:
→
Tibet - A Photographic Journey
→
The China Rock Art Archive
→
Bradshaw Foundation