ROCK ART PETROGLYPHS OF CAMPECHE ISLAND

Page 4/5
To obtain photographs of the panel it was necessary to stand right on the edge of the platform while supported by a rope. From the platform there is a magnificent view of the inlet in the centre of which is a great tongue of granite boulders that points castwards out into the sea towards the horizon.
We climbed down off the platform returning to the boulders below to see
The Great Double Mask of Campeche
. Many of the Masks are double but this is the only example that also includes a circle until the discovery made this year by Keler of the Little Sister Mask..
Tourist damage is a continual problem, below is an example were someone has deliberately scratched the original line of the petroglyph. Before leaving the southern end of the inlet we climbed the cliff to see a completely different type of giant panel. This wall of symbols rises from another natural platform that faces out to sea.
We arrived at a platform some 40 feet above the sea to discover an enormous panel that contained a variety of rock art symbols and an amazing mask petroglyph..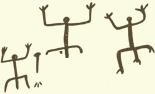 On the rocks of the northern end of the inlet of Campeche Island are several Manikins. These Manikins have been called the Family, the stick like rock art figures seem remarkably primitive compared to the symbolic and complex patterns of petroglyphs that have been discovered on the main platform.
Like us on Facebook & Follow us on Twitter to receive news & updates
:
→
Santa Catarina Rock Art
→
South America Rock Art Archive
→
Bradshaw Foundation Homepage