LAGOMARSINO CANYON PETROGLYPH SITE

Page 5/8
Site Description
Previous estimates of the quantity of rock art at Lagomarsino ranged from 600-1,000 panels of prehistoric art (Baumhoff et al. 1958; Quinlan and Woody 2001). During the Nevada Rock Art Foundation's 5-year recording project at the site, an area of 86,000 m
2
was surveyed and 2,219 prehistoric rock art panels identified, as well as a signifi cant quantity of graffiti and other vandalism. In general rock art is distributed throughout the talus and cliff face, with some prominent high density areas of rock art discernible. Sections 7(19.6%), 8(39%), and 9(23.6%) contain over 80% of the site's rock art. The highest concentrations of rock art are discernible on the cliff-face (Sections 7RR, 8RR, and 9RR) and at the base of the talus slope (Sections 8A, 8A2, 8B2, 8C2, 9B2, 9C1, 9D2, 7D1, 7D2, 7E1). Mid-slope areas of the site also have significant numbers of rock art panels, but across the site there is a general trend that areas high on the talus slope leading to the intersection of the cliff face area (6RR-12RR) have low numbers of panels.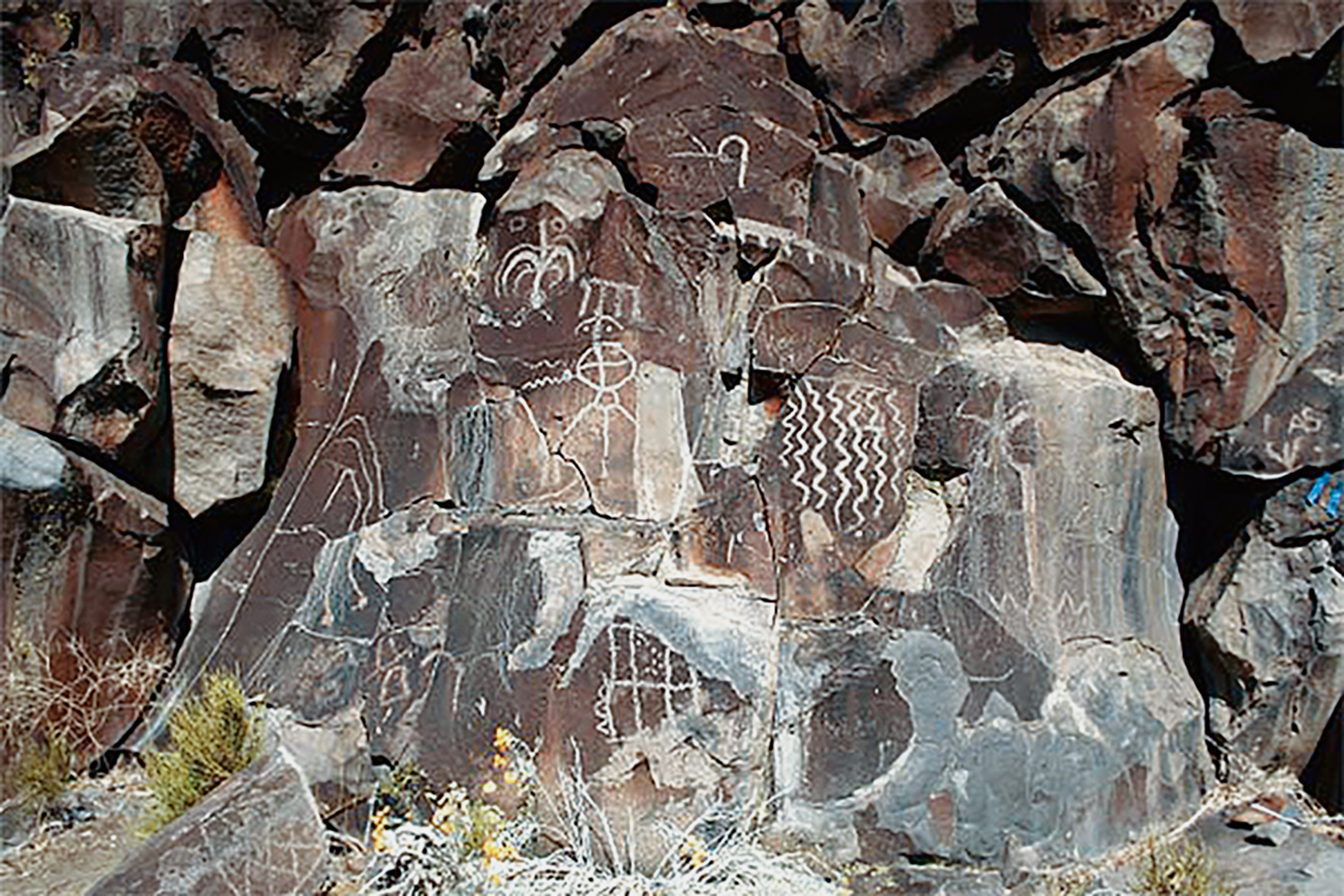 Rock art in the rim rock sections is particularly notable for its prominent landscape position, with commanding views of the canyon and site, size, and quality of execution. The designs in these sections are highly visible from the canyon bottom and appear to have been made in such a way as to enhance their visibility. Their designs are deeply pecked with wide lines and are large in size and the largest panels (in terms of surface area covered) are located in sections high on the talus slope or on the cliff face. E.g., panels in 8RR on average cover a surface area of 1.03 m, in 9RR, 0.86m; in 7RR, 0.8 m; but in 8A and 8A2 at the bottom of the talus, panels on average cover a surface area 0.24-0.27m. Rock art in Sections 8A and 8A2 is prominent by virtue of its abundance and proximity to the base of the talus slope, readily apparent to a casual passerby and near the occupation area of the site (see the Other Archaeological Features section on the next page for more information about the occupation area).
All the rock art at Lagomarsino is petroglyphic in method of production, with over half (1,334 panels) containing design elements made by solid pecking as the primary technique, with stipple pecking (703 panels) the second most common technique. Other petroglyph techniques observed include abrasion and scratching. The motifs (n=4,600) present run the full range of Basin and Range Tradition types and are dominated by abstract designs. Representational or naturalistic designs account for only 2.6% of the total motifs present at the site. Zoomorphs (19) are strikingly rare and bighorn sheep motifs, which are often regarded as one of the characteristic motif types of Great Basin rock art, are very rare (just five and only two of these are classic specimens of the stylistic treatment of this animal in Great Basin rock art). No other large or medium-sized mammals are represented in the site's art; the only other animal type portrayed in any frequency is lizards (7). Portrayals of the human form are largely variants of Basin and Range Tradition stick figures, though naturalistic representations of feet (29) are a significant component of the site's corpus of anthropomorphs.
Abstract imagery includes motifs that are characteristic of Basin and Range Tradition art: circles, dot rows, arcs, rakes, wavy lines, perpendicular linear designs, grids, and a range of geometric forms. Rectilinear and curvilinear forms (2,129) outnumber circular designs (1,206). Many linear forms, particularly simple vertical and horizontal lines that occur singly, appear to be more expedient or performative in the way that they were made; i.e., the act of marking a mark was probably the primary motivation in their production. The site's very well-made, deeply pecked, large, imposing abstract designs, concentrated on the cliff face and high up the talus slope, comprise rakes, schematic representations of textiles, fields of dots, circles with long trailing lines, one anthropomorph with outstretched arms, etc., and were probably made by master artists. The quality of much of the art, its design types, and style of execution make Lagomarsino a particularly good example of Basin and Range Tradition. The site's dominant emphasis on abstract imagery is somewhat unusual for Great Basin rock art sites, and the size of many of the site's designs are among the largest in Nevada.
Some spatial patterning in the relative balance between representational, linear, and circular motif types is discernible. Linear forms predominate in nearly all sections, as would be expected given their abundance at the site. Representational forms are rare but appear to avoid locations high up the talus slope and are never numerically the most prominent design type in a section (with the exception of Section 6E2). Circular forms occur in conspicuously low percentages in Sections 7RR, 8RR, and 9RR on the cliff face, and tend only to be a signifi cant component of motif assemblages in sections that have less than 40 panels. More detailed analysis of the spatial relationships among the different motif types may be able to identify whether there is any chronological patterning underlying these basic spatial patterns.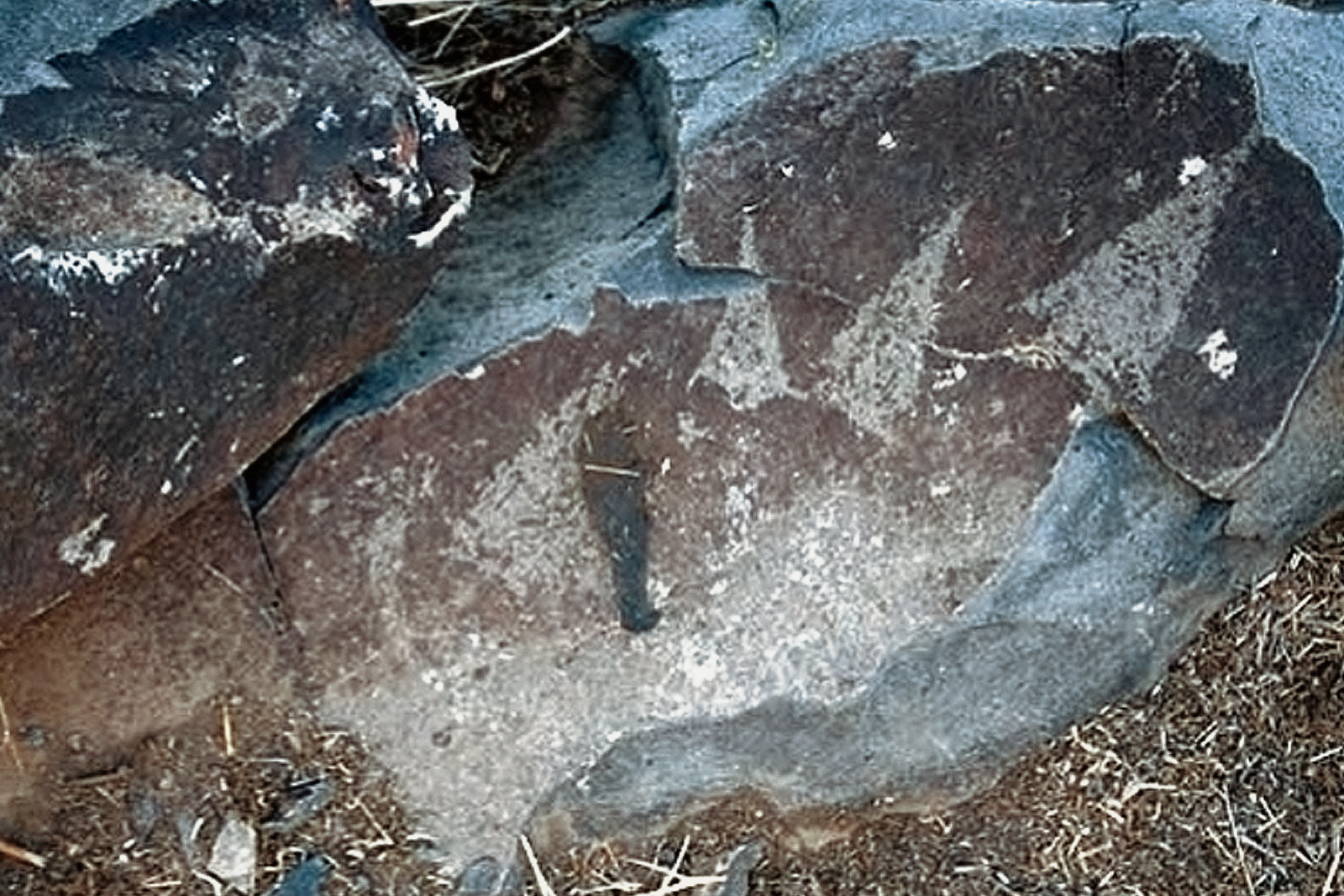 Although currently there is no scientific way of dating petroglyphs, a few designs described above give clues to the age of some the site's art. There are a small number of circles bisected by a vertical line that may be schematic treatments of atlatls, as well as a panel with naturalistic portrayals of Elko series points, indicating a Middle Archaic date for some of the rock art at the site. The naturalistic textile designs identified by Washoe elders as traditional basket designs (Quinlan and Woody 2001), indicate that some of the site's rock art may have been made into the late Prehistoric and ethnohistoric times. The sheer quantity of Lagomarsino's rock art indicates that it was probably made over a long period of repeated use. The presence of representations of objects used in everyday life other than just atlatls or bow-and-arrows is distinctive-few rock art sites are known elsewhere in Nevada that contain representations of equipment used for resource processing and storage.
Although the site contains a significant quantity of graffiti and other vandalism, the frequency of vandalism is proportionate to a rock art site of this scale and is generally not visually intrusive to the site's setting. Some vandalism does directly impact prehistoric art, but the most serious case of vandalism (to Panel 7RR-13, described above) was mitigated by Nevada Rock Art Foundation in 2003 (Dean 2003). Most graffiti and other vandalism is only visible when up close to it, and much of this takes the form of lightly scratched initials and other marks, though some attempts at imitating prehistoric design elements are present. Vandalism is generally found in areas of the site that have the most prominent designs (the cliff face and at the base of the talus slope) and natural routes across the site. This suggests that much vandalism can be related to casual site visitation and is directed at those areas of the site that attract the most attention. Natural destructive agents include surface spalling, lichen growth, and exposure to the elements. In addition, some boulders bearing rock art have tumbled down the talus slope from their original position. Despite these impacts the site is in good condition.
Nevada Rock Art | Go to Page (Canyons)
Like us on Facebook & Follow us on Twitter to receive news & updates
:
→
American Rock Art Archive
→
Bradshaw Foundation