THE THEMES CHOSEN
Above all, Paleolithic art, from beginning to end, is an art of animals. In the past few years, some specialists have insisted upon the importance of
geometric signs
. It is true that those signs and indeterminate traces are numerically more important than the animals and that they constitute one of the major characteristics of the art. Under their most elementary forms, as clouds of dots and small red bars, they can be found from the Aurignacian in
Chauvet
to the Middle and Late Magdalenian in
Niaux
. They are the most mysterious images in cave art. Very few caves have none (Mayriere superieure, La Magdelaine) or, on the contrary, have nothing but geometric signs (Cantal and Frayssinet-le- Gelat in the Lot). This means that those signs are practically always associated to animals, either in the same caves and often on the same panels or directly on top of them (G.R.A.P.P. 1993).
However, our first and most durable impression of Paleolithic art is above all that of a bestiary, plentiful and various while remaining typical. Most of the animals represented are big herbivores, those that the people of the Upper Paleolithic could see around them and which they hunted. Those choices were not compulsory. They might have preferred to draw birds, fish or snakes, but they did not do so.
Horses are dominant. Locally they may be outnumbered by bison (the Ariege Pyrenees;) or hinds (Cantabrian Spain), occasionally even by rhinoceroses and lions at the very beginning (
Chauvet
) or, much later, by mammoths at Rouffignac (Plassard 1999). None the less, they always remain numerous whatever techniques were used at any period and in any region. We might say that the theme of the horse is at the basis of Paleolithic rock art. This is all the more remarkable as that animal, even though present among the cooking debris of Paleolithic living sites, was often less plentifully killed and eaten than reindeer and bison, or again ibex in mountainous rocky areas. This means that it played a major role in the bestiary. The same could be said, even if less so, for the bison, whose images are also found in relatively high numbers from the Aurignacian to the end of the Magdalenian.
The importance of animal themes varies according to the different regions but much more in function of the periods considered. For ex-ample, the enormous number of normally rare dangerous animals in the
Chauvet Cave
created a surprise: rhinoceroses, lions, mammoths and bears represent 63% of the recognisable animal figures (
Clottes
(ed.) 2001).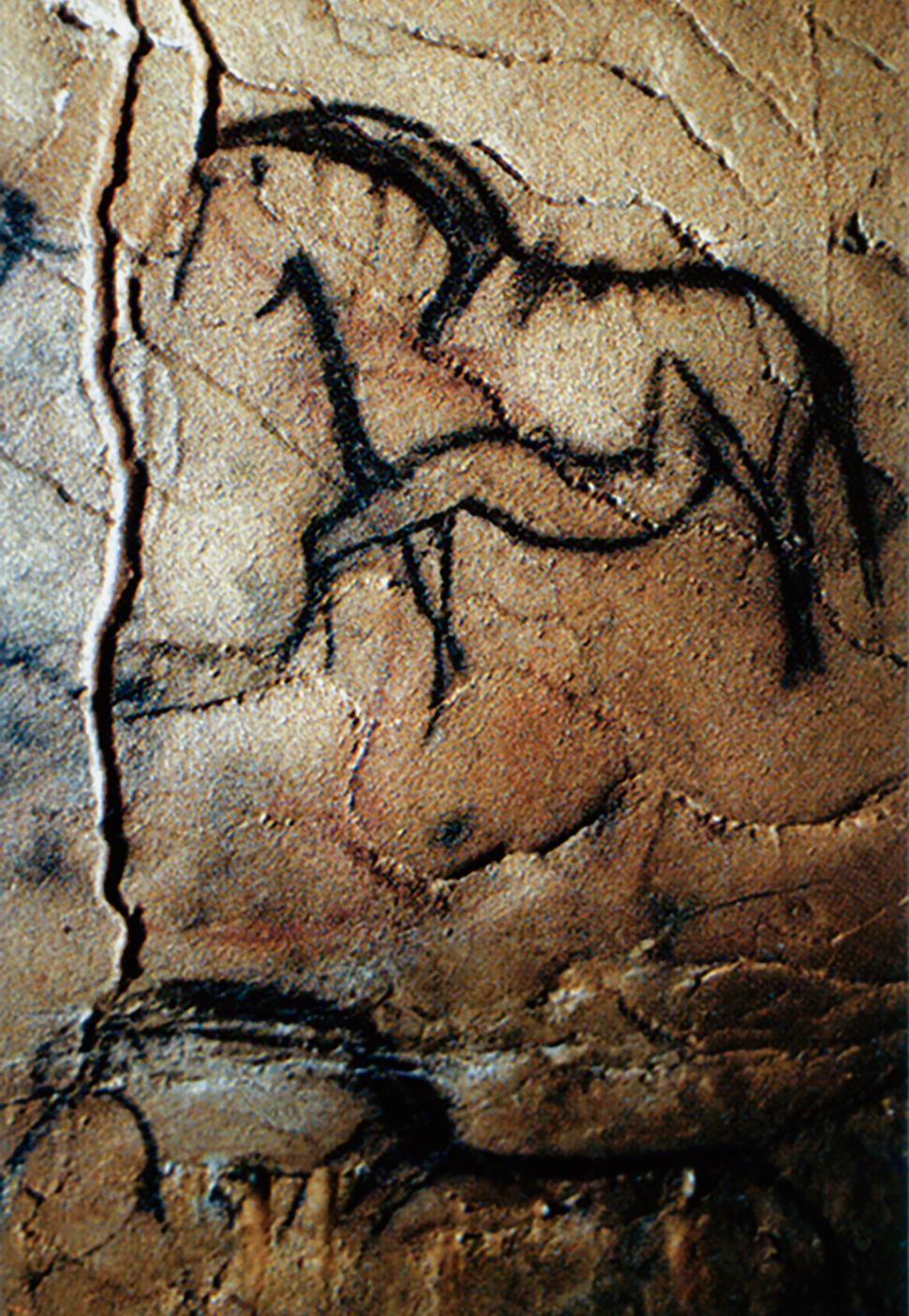 However, this is not a unique phenomenon, isolated in time and space. In the Dordogne, at the same epoch, Aurignacians made use of the same themes in their shelters and their caves in much higher proportions than can be found in later art. This would mean that an important thematic change took place in the art of the south of France at the beginning of the Gravettian or at the end of the Aurignacian, when their choices changed from the most fearsome animals to the more hunted ones (
Clottes
1996). Human representations can be found, but in far fewer numbers in comparison with the painted and engraved animals. About a hundred have been published, not counting hand stencils and hand prints or isolated female sexual organs. This numerical inferiority, constant at all times during the Upper Paleolithic, is in sharp contrast to what one can see in most forms of rock art all over the world. In addition to their relative scarcity, human representations evidence two main characteristics: they are nearly always incomplete or even reduced to an isolated segment of their body; they are not naturalistic, contrary to the animals.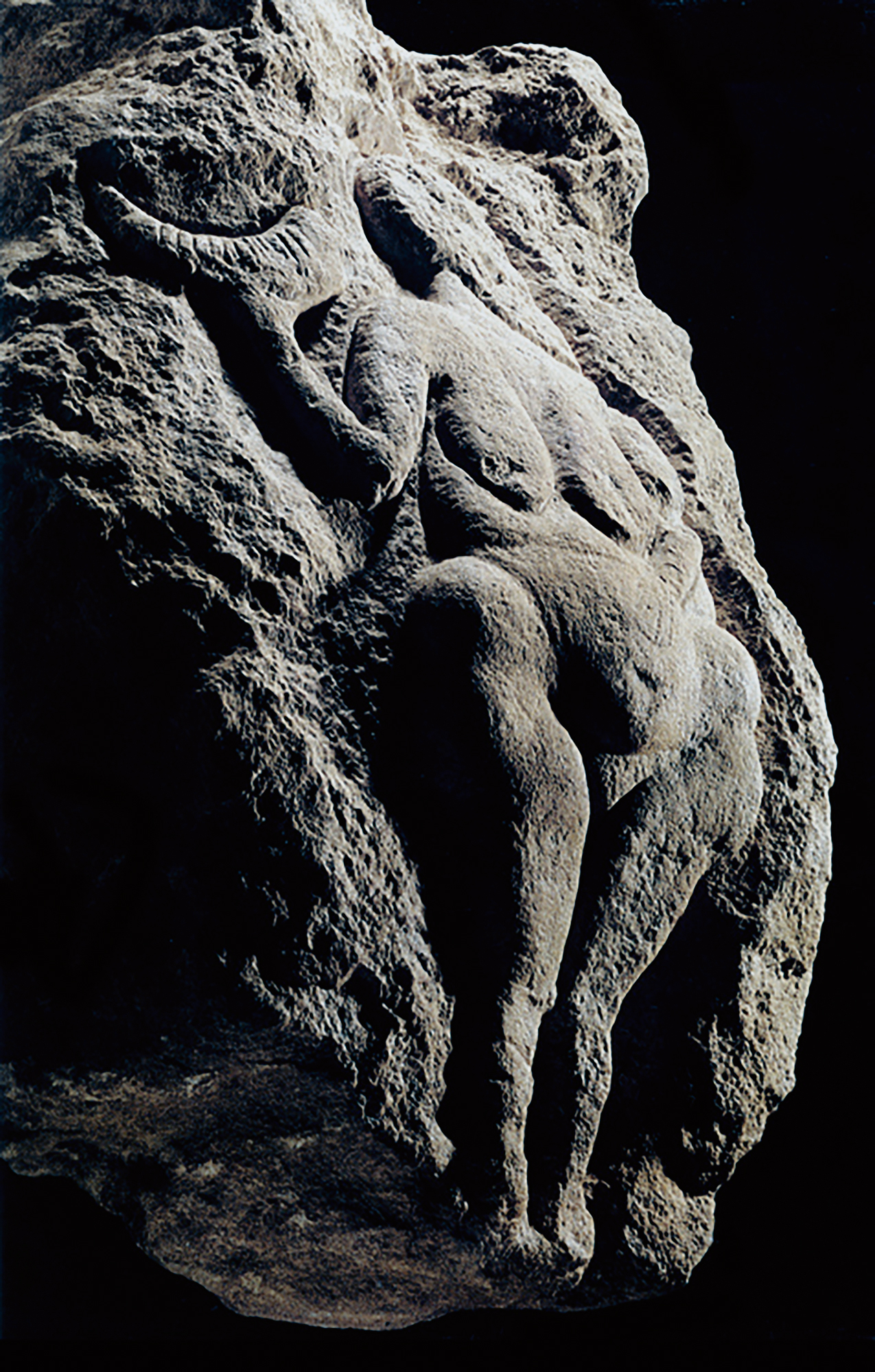 Whole human representations are exceptional, hardly a score. They may be carved women (La Magdelaine in the Tarn, Le Roc aux Sorciers in the Vienne), or women sketched with a finger or a tool on the soft surface of a wall or ceiling (Pech-Merle, Cussac), or painted (Le Portel) or engraved men (Sous-Grand-Lac, Saint-Cirq, Gabillou in the Dordogne).
Far more numerous are body segments, such as hand stencils and hand prints, heads, female and male genital organs, or again some rather indistinct outlines - which may or may not be human - often called 'ghosts'. Those themes were more or less favoured according to the various cultures (G.R.A.P.P. 1993). Hand stencils and prints can exclusively be found in the earliest periods of the art, probably in the Aurignacian (
Chauvet
), most certainly in the Gravettian (
Cosquer
, Pech-Merle, Gargas), roughly between 32,000 and 22,000 BP in uncalibrated radiocarbon years. On the other hand, the female sexes, frequent at the very beginning (Chauvet, Cosquer, several shelters in Dordogne), can also be found in the Solutrean and above all in the Magdalenian (Font-Bargeix, Bedeilhac). That sexual theme is thus a constant of the Upper Paleolithic, with more or less frequent occurrences according to the times and places.
Animals are often drawn without any care for scale, in profile. They can be whole or just represented by their heads or forequarters, which is enough to identify them. Their images are often precise, personalised and identifiable in all their details (sexes, ages, attitudes), whether they be Magdalenian bison in the Ariege or Aurignacian lions and rhinos in the
Chauvet Cave
, 18,000 years earlier. Scenes are rare and certain themes are absent, like herds and mating scenes. Paintings and engravings are thus neither faithful copies of the surrounding environment nor stereotypes.
As to humans, whatever the culture and diverse as they may be, they always seem to be uncouth and unsophisticated, mere caricatures. This is also a constant feature that stresses the unity of Paleolithic art.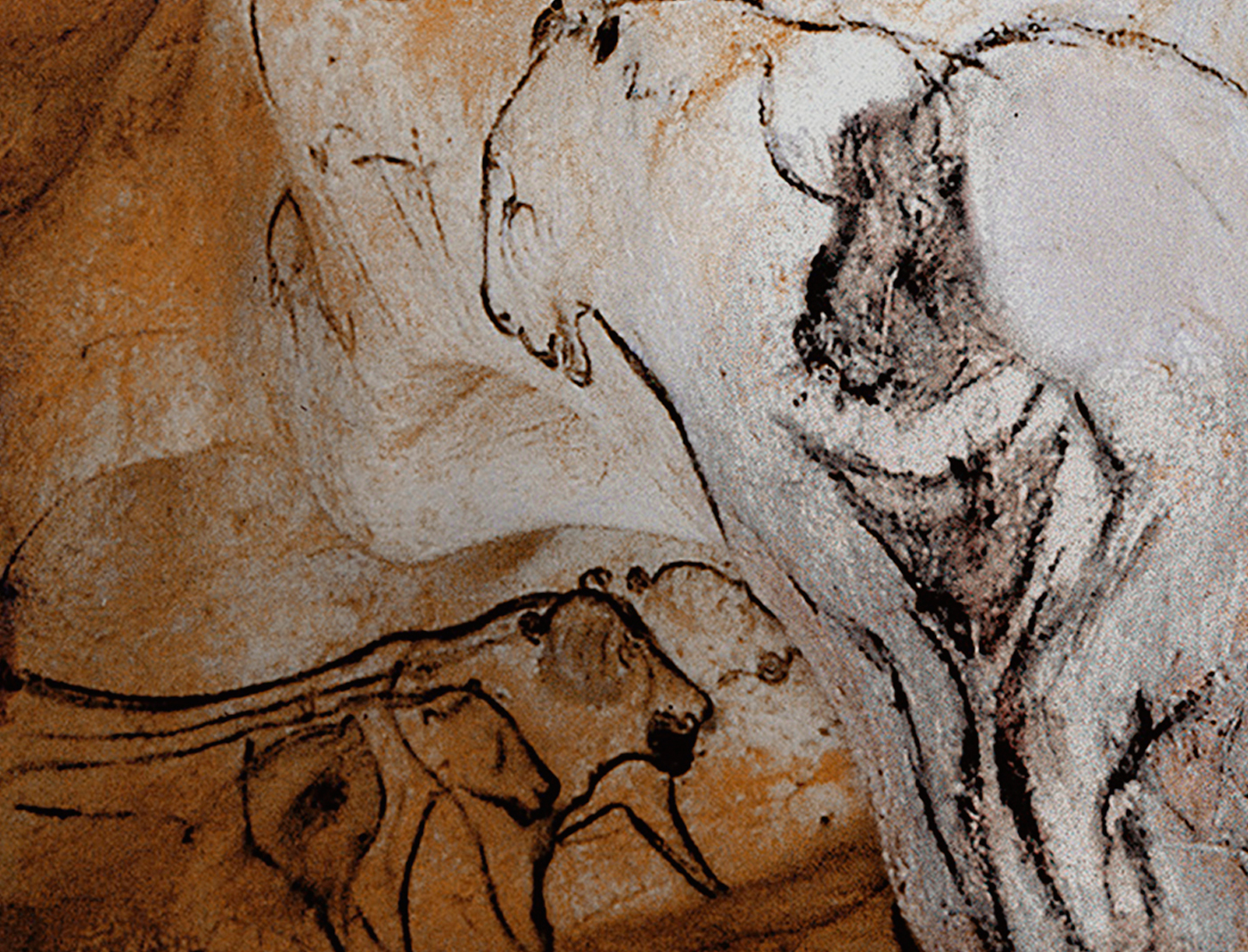 The artistic abilities of the painters and engravers cannot be questioned. They deliberately chose to represent vague humans, with few details or deformed features.
A particular theme is that of composite creatures, at times called sorcerers. Those beings evidence both human and animal characteristics. This theme is all the more interesting as it departs from normality. It is present as early as the Aurignacian in
Chauvet
. It can be found in Gabillou and
Lascaux
10,000 years later or more and it is still present in the Middle Magdalenian of Les Trois-Freres, nearly 20,000 years after its beginnings.
→
The Paleolithic Cave Art of France
→
France Rock Art Archive
→
Bradshaw Foundation
Like us on Facebook & Follow us on Twitter to receive news & updates
: