Inner Mongolia & Ningxia Rock Art Sites

Page 4/13
Ningxia (Helanshan)
Zhongwei county has two major petroglyph sites: Gujingou and Damaidi (Fig. 8:22-3). These are located in the same landscape of rolling hills with outcropping dark stones. At Gujingou there are three main locations:
A) a low hill topped by dark stone slabs covered by signs ranging from simple and superficially engraved single animal, to deeply carved or engraved 'scenes';
B) a horizontal slab approximately 4 metres long in a seasonal river bed, with associated boulders. The slab is completely covered by signs, mostly weathered, representing simple scenes involving animals and humans; the stones are better preserved and depict human faces and animals. (One features a deeply carved horned sheep with decorated body or X-ray display standing amid other animals:
Fig. 13a
.)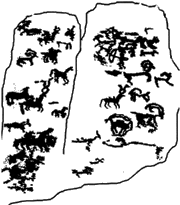 C) consists of several flat-faced boulders of dark colour atop a low hill. One is carved with a hunting scene featuring several horned animals and a hu-man armed with bow and arrows (
Fig. 13b
).
At Damaidi, like at Gujingou, petroglyphs are concentrated on outcropping dark rocks atop small hills. Images vary in content, style, carving technique and patina. Hunting and riding scenes with people carrying bows and arrows and scattered animals (generally horned) are very common (
Fig. 14a
). Variations include representations of the chariot, of which there are at least two examples (
Fig. 14b
), and an image of a human, apparently with an aura or a circular headdress, riding a strange creature or a sleigh. In addition, there are a few faces or masks carved in a summary way, which may be more recent.
Like us on Facebook & Follow us on Twitter to receive news & updates
:
→
The China Rock Art Archive
→
Bradshaw Foundation