Sacred rock carvings leave China for the first time
New Exhibition - Exclusive to Wales
From Steep Hillsides: Ancient Rock Carvings from Dazu, China
→
About the Dazu Rock Carvings from China
Visitors to
National Museum Cardiff
in the New Year will have an exclusive opportunity to see a
unique exhibition
of ancient rock carvings from China - sculptures which have never before been seen outside China. From Steep Hillsides: Ancient Rock Carvings from Dazu, China will be exhibited from Wednesday 26 January to Sunday 3 April 2011.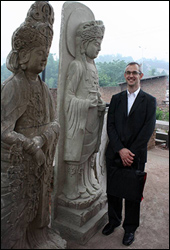 The steep hillsides of the Dazu World Heritage site near Chongqing contain an exceptional series of rock carvings dating from the middle of the 7th century and developed between the 9th and the 13th centuries. The carvings comprise some 50,000 figures in total, and are remarkable for their aesthetic quality, their rich diversity of subject matter, both secular and religious, and the light that they shed on everyday life in China during this period.
This free exhibition - From Steep Hillsides: Ancient Rock Carvings from Dazu, China - and celebrations and events surrounding it, have been made possible through the support of several organisations including the Welsh Assembly Government, Chongqing Municipal Culture, Radio Broadcasting, and Television Administration, British Council, Cardiff University Confucius Institute, Cardiff Council and Cardiff & Co.
It contains superb examples that have become detached from their original setting, along with accurate replicas of some of the most important sculptures still in situ and dramatic large-scale images, to give some idea of what it is like to visit these spectacular places.
"Dazu rock carvings are some of China's greatest cultural treasures from a golden period of Chinese art. I have visited Chongqing myself and have seen these carvings in situ - an unique experience in itself," said David Anderson, Amgueddfa Cymru - National Museum Wales's Director General.
"Hosting their first appearance outside of China is a privilege not just for the Museum but for Wales. I am confident this will be a popular exhibition and hope this is the beginning of a successful relationship between us and the Chongqing Culture Bureau."
The free exhibition is a cultural exchange between Amgueddfa Cymru - National Museum Wales and the Chongqing Culture Bureau which is part of the burgeoning relationship between Wales and the Chinese municipality of Chongqing. With help from the British Council's Connections Through Culture China-UK programme, a scheme supported by the Welsh Assembly Government, the two organisations were able to build a relationship and develop this exciting cultural collaboration.
The growing relationship stems from the 2006 signing of a Memorandum of Understanding between Wales and Chongqing which identified 6 areas of cooperation: economic and trade development; education and training; environment; culture; governance and agriculture.
Carwyn Jones, First Minister of Wales, will officially welcome guests from China at the launch of the exhibition held at National Museum Cardiff. He said:
"I'm pleased that these sacred rock carvings are coming to Wales and that National Museum Cardiff is the only secured venue for this important exhibition before it returns to Dazu. This exhibition further strengthens our cultural relationship with the Chongqing municipality in China. We have much to offer each other and this will be a fantastic start to the year for Amgueddfa Cymru."
"Wales is such a place that is steeped in history and cultures, and the rich historical and cultural deposits embedded with her are exactly why we choose National Museum Wales, Cardiff to host the first appearance of Dazu Rock Carvings Art outside of China," said Li Fangyin, curator of Art Museum of Dazu Rock Carvings, Chongqing,
"As a world cultural heritage, Dazu Rock Carvings should not only be taken as a treasure for local people of Dazu, but should also be recognized as a cultural property of the whole world, and both the artistic and historical value should be shared and appreciated by world people. I firmly believed that visitors will like this exhibition, and it will be successful and memorable, because it is organized by such an excellent museum in such an amazing city. Meanwhile, I appreciate the widespread concerns for this exhibition from all circles of Wales society. And I, on behalf of Art Museum of Dazu Rock Carvings, Chongqing, am particularly grateful to the support from the Welsh Assembly Government, British Council, Cardiff University Confucius Institute, Cardiff Council and Cardiff & Co."
Amgueddfa Cymru - National Museum Wales administers seven national museums across Wales. They are National Museum Cardiff; St Fagans: National History Museum; National Roman Legion Museum, Caerleon; Big Pit: National Coal Museum, Blaenafon; National Wool Museum, Dre-fach Felindre; National Slate Museum, Llanberis and the National Waterfront Museum, Swansea.
Entry to this exhibition and each Museum is free, thanks to the support of the Welsh Assembly Government.
Like us on Facebook & Follow us on Twitter to receive news & updates
:
→
The China Rock Art Archive
→
Bradshaw Foundation