BRADSHAW FOUNDATION - LATEST NEWS
Prehistoric Art & Ornaments from Indonesian Ice Age
04 Apr 2017
An article from Griffith University on sciencenewsline.com - Researchers Uncover Prehistoric Art And Ornaments from Indonesian 'Ice Age' - reports on Ice Age human culture and symbolism in Indonesia.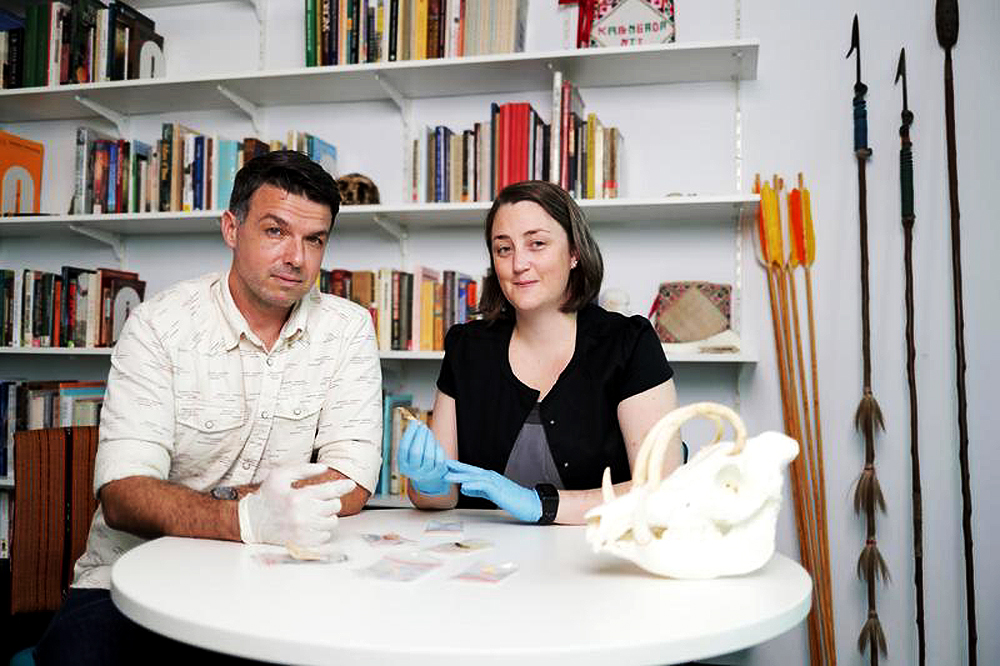 Griffith University archaeologists Associate Professor Adam Brumm (left), who with Indonesian colleagues led the excavations that yielded the new findings, and Dr. Michelle Langley who analysed the recovered ornaments and art objects. Image: Griffith University.
The Australian Research Centre for Human Evolution (ARCHE) team, based in Griffith's Environmental Futures Research Institute, together with Indonesian colleagues, have published the research in Proceedings of the National Academy of Sciences (PNAS).
The study was co-led by Associate Professor Adam Brumm, an Australian Research Council (ARC) Future Fellow, and Dr Michelle Langley, who also holds a fellowship from the ARC and is the country's leading expert in the study of ancient ornaments and bone technology.
Prehistoric Art & Ornaments from Indonesian Ice Agehttps://t.co/w3Me6JzSMN #Sulawesi #jewellery #archaeology #RockArt pic.twitter.com/3XiCfwUohX

— Bradshaw Foundation (@BradshawFND) April 4, 2017
Dated to between 26,000 to 22,000 years ago, this humanly modified artefact consists of a drilled and perforated finger bone from an endemic bear cuscus. The hole at one end formerly bore a string, while wear marks on the ornament show that it repeatedly rubbed against human skin or clothing during the period of its use. These facts suggest the perforated bone was suspended for use as a pendant. Image: Griffith University.
Associate Professor Brumm states that scientists have long been curious about the cultural lives of the first Homo sapiens to inhabit the lands to the immediate north of Australia sometime prior to 50,000 years ago, part of the great movement of our species out of Africa. Some have argued that Pleistocene human culture declined in sophistication as Homo sapiens ventured beyond India into the Southeast Asian tropics and the island chains east of continental Eurasia, known as 'Wallacea'. However, new research dismantles this view.
Article continues below
Adding to the 2014 breakthrough discovery of 40,000-year-old cave art on the Wallacean island of Sulawesi, which is said to be some of the world's oldest, is a unique assemblage of previously unknown symbolic objects excavated from a Sulawesi cave site called Leang Bulu Bettue.
The recovered artefacts, dated to between 30,000 to 22,000 years ago, consist of disc-shaped beads made from a babirusa ('pig-deer') tooth and a pendant fashioned from the bone of a bear cuscus (a large and primitive possum-like marsupial found only on Sulawesi), as well as 'portable' art objects: stones incised with geometric patterns, the meaning of which is unknown.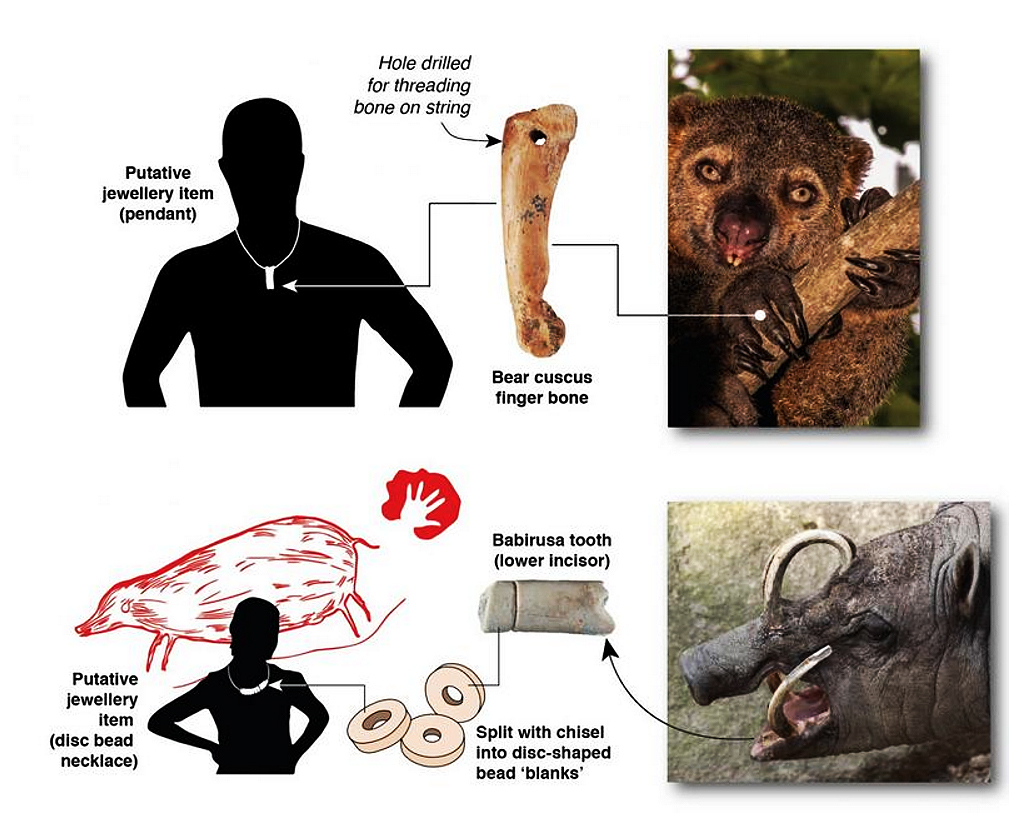 Prehistoric ornaments excavated from the 'Ice Age' of Sulawesi and dated to between 30,000 to 22,000 years ago. Image: M. Langley and A. Brumm.
Dr Langley's analysis also revealed extensive evidence for rock art production at the site, including discarded ochre pieces, ochre stains on tools, and a bone tube that may have been a 'blow-pipe' for creating hand stencil motifs, the earliest of which date to at least 40,000 years ago on Sulawesi.
The team believes that these early examples of art and jewellery imply that the spiritual beliefs of modern humans may have transformed as they encountered new forms of animal life on the journey from Asia to Australia - the conceptual world of these people changed to incorporate exotic animals. This 'symbolic negotiation' with novel species might have been fundamental to the later settlement of Australia, which harboured unprecedentedly rich communities of endemic faunas and floras.
40,000 year old rock art found in Indonesia:
http://www.bradshawfoundation.com/news/cave_art_paintings.php?id=40-000-year-old-rock-art-found-in-Indonesia
COMMENTS